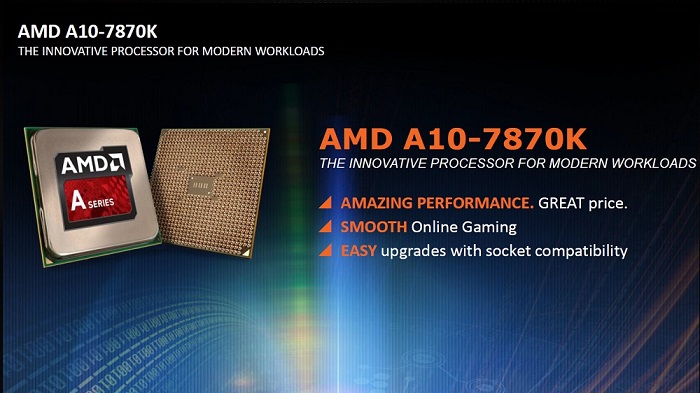 AMD's desktop Accelerated Processing Units (APUs) haven't seen a new release since last year. The current generation of AMD desktop APUs, codename Kaveri, were initially introduced in January 2014 spearheaded by the flagship A10-7850K. Throughout the rest of the year AMD staggered the release of new models including the A10-7800, A8-7600 and A6-7400K.
Today signals the release of a new APU that is part of the same Kaveri family. The A10-7870K succeeds the A10-7850K as the new flagship of AMD's desktop APU platforms, although, enthusiasts may be disappointed to hear that the new APU is effectively a speed-bumped version of its predecessor. AMD's desktop APU platform won't be getting a new micoarchitecture for the foreseeable future and it has been speculated that AMD's next-gen APU design, Carrizo, may not even make it to the desktop platform so consumers might have to wait until 2016 for a truly new desktop APU.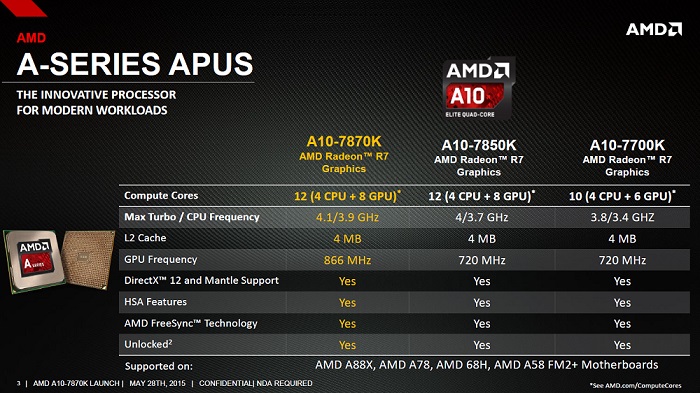 The AMD A10-7870K gets an incremental CPU frequency increase to 3.9GHz base and 4.1GHz turbo compared to 3.7GHz/4.0GHz on the A10-7850K. The GPU gets a larger frequency increase, rising from 720MHz to 866MHz. Interestingly, we managed to achieve higher clock speeds on both the CPU and GPU while overclocking the A10-7850K in our review and, as a result, we would expect to see performance improvements of 10 to 20 per cent depending on the workload. AMD isn't pitching the A10-7870K as an upgrade for A10-7850K users but instead a better option for prospective entrants into the APU ecosystem.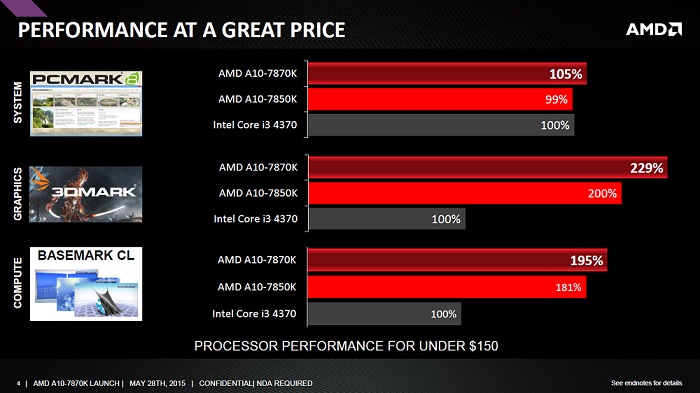 AMD's own performance numbers hint at these incremental improvements showing a 6 per cent gain in PCMark8, a 29 per cent increase in 3DMark and a 14 per cent rise in BasemarkCL. In short, performance gains will be largest in GPU-centric applications while CPU-intensive programs will experience a smaller gain, around 5 per cent.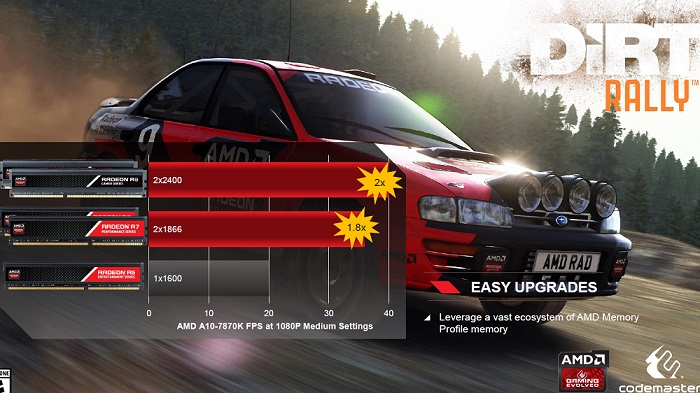 The A10-7870K scales strongly with increased memory bandwidth, just like its predecessor, allowing for sizeable boosts to in-game frame rates with faster memory. The system memory bus is often the limiting factor for GPU performance so scaling from 1,600MHz to a faster kit, such as 2,133MHz or 2,400MHz, can boost performance significantly, as AMD's figures reveal.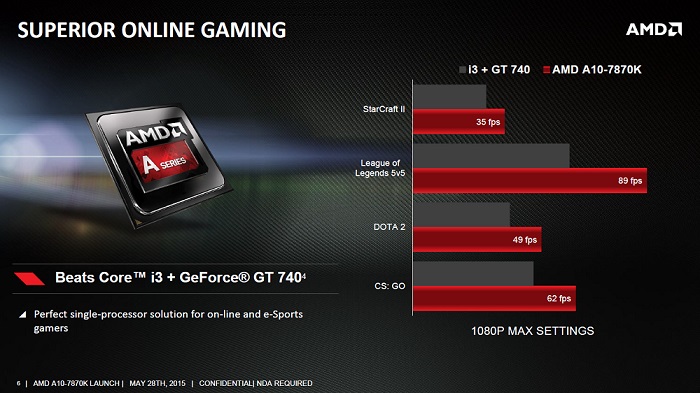 AMD is gearing the A10-7870K as a gaming chip and pitching it against Nvidia's low-end discrete graphics cards, notably the GeForce GT 740. According to AMD's testing the A10-7870K beats out a Core i3-4370 and GT 740 combination in a range of popular multiplayer titles like StarCraft II, League of Legends DOTA 2 and CS:GO, albeit with the use of more expensive DDR3-2400MHz memory.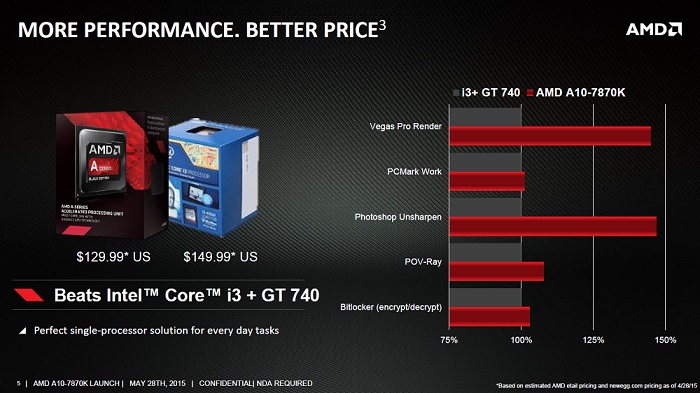 In traditional AMD fashion the company hopes to win consumers over with attractive pricing even if the target audience of the chip isn't immediately obvious. The A10-7870K ships with an MSRP of $130 making it notably cheaper than Intel's Core i3 Haswell offerings and with more multi-threaded CPU and GPU performance. In response to the release of the A10-7870K AMD will likely issue a price cut for existing APUs, such as the A10-7850K, to ensure they remain competitive in the marketplace.
Frugal consumers will note that they can pick up an Intel Pentium G3220 ($55) and AMD R7 250 ($80) for a similar price and when factoring in cheaper RAM, 1,600MHz instead of 2,133/2,400MHz, the latter option could offer better platform longevity for future upgrades. The APU does still have design wins in the department of compactness, making it ideal for small form factor gaming systems where discrete graphics cards are difficult to implement.