A new leaked roadmap slide purportedly showing Intel's plans through to the end of 2016 has been published by a Finnish computer technology website. If the slide is genuine we will likely see Intel release its first 10nm Cannonlake CPUs sometime around the second and third quarters of next year.
The first Cannonlake CPUs will arrive in devices packing the Cannonlake-U and Cannonlake-Y chips. Towards the end of the year they will be joined by a Core M processor based on Cannonlake. All these are BGA processors so will not be of great interest to desktop PC enthusiasts. They are likely to appear in AiOs, laptops and tablets.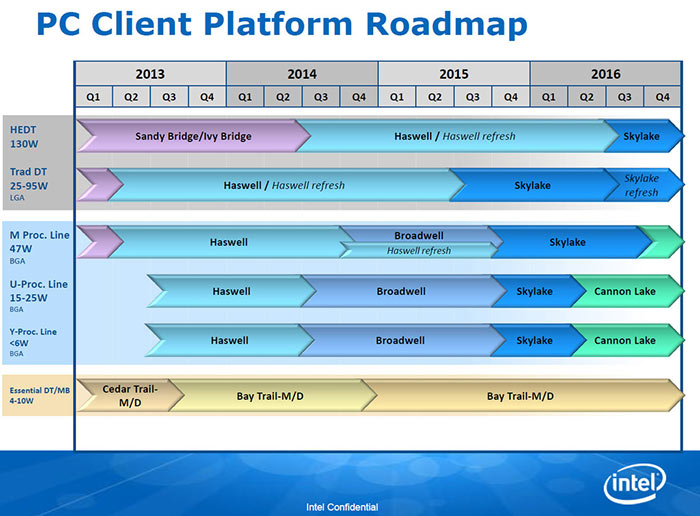 Cannonlake will be the next 'tick' in Intel's manufacturing model. Skylake will be a 'tock' in that it implements significant microarchitectural changes to the CPU designs while Cannonlake's 'tick' is a process technology miniaturisation step, reducing the Skylake architecture for a 10nm chip.
For traditional desktop users there won't be any Canonlake chips in 2016. Instead Skylake refresh parts will start to become available from Q3 2016 onwards, according to the roadmap. At the same time, for HEDT (high end desktop) platforms, Skylake E will be launched. Meanwhile we are still waiting for the first range of SKylake processors to arrive.
Please remember that the official looking 'Intel slide' may not be genuine. It is curious, for instance, that Cannonlake is written as 'Cannon Lake'.
Only a fortnight ago we saw what were claimed to be the first comparative benchmarks of a Skylake-S CPU. The tests, run on a new Intel i7-6700K Skylake processor, were said to show an average 15 per cent performance improvement over the current unlocked Haswell top dog, the Intel Core i7-4790K. These Skylake desktop CPUs are expected to premiere at Computex in early June.