Official looking slides which appear to have been prepared for AMD's financial analyst day on 6th May 2015 have leaked onto the internet. Two slides are presented in the leak; one is of the AMD 2015-2016 Desktop Roadmap, and another shows the AMD 2015-2016 Mobility Roadmap.
As mentioned in a news report here on HEXUS a couple of days back the Godavari APU is going to be showing up shortly. This is 'confirmed' to feature up to four Steamroller CPU cores and sit in the FM2+ socket motherboards already on the market. It is targeting mainstream desktop and performance all in ones. However it's not incremental improvement over previous mainstream APUs isn't going to make PC enthusiasts very excited.
Looking ahead to 2016 on the desktop and mobility roadmaps you will see that all of AMD's APUs and CPUs are destined to be fabricated using 14nm technology. You will also observe that all the chips are powered by AMD's new Zen CPU cores except for the lowest 'ultra-low power' Styx mobility APU.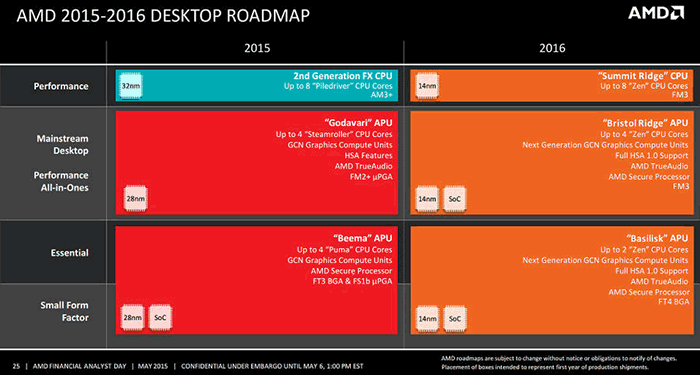 PC enthusiasts that use dedicated add-in-boards for 3D graphics acceleration will be happy to see the AMD Summit Ridge CPU in the road map. This features up to eight of the Zen CPU cores. It will be compatible with a new socket referred to as FM3. The mainstream 14nm desktop parts will be APUs with up to four Zen CPU cores. These Bristol Ridge chips will also feature next gen GCN graphics, full HSA 1.0 support, AMD TrueAudio and AMD Secure Processor functionality. Again these chips will fit in motherboards sporting the new FM3 socket.
The lowest end desktop chips will be the Basilisk APU range. They aren't left out of the 14nm Zen CPU core party and will include up to two of these CPU cores. However these won't be interesting to PC building enthusiasts as they will only be made in the FT4 BGA package. No doubt they will be featured in the likes of consumer AiOs and so on.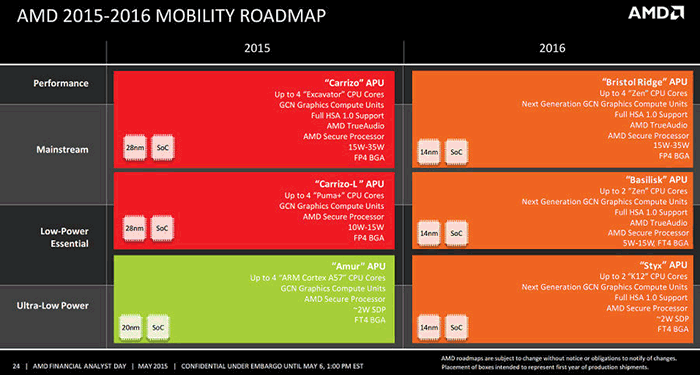 In summary, the AMD mobility chips coming out in 2016 will all be 14nm FT4 BGA APUs. As mentioned above, the higher end ranges of mobility chips will also go with Zen cores. The mobile Bristol Ridge APUs feature up to four Zen cores with next gen GCN graphics, full HSA 1.0 support, AMD TrueAudio and AMD Secure Processor functionality and TDPs ranging from 25W down to 15W. Mainstream Basilisk APUs will feature up to two Zen cores and a TDP from 15W down to 5W. The ultra-low power Styx APUs are powered by up to two 'K12' CPU cores and have a TDP in the region of 2W.
If the slides prove to be genuine then it's less than a week until this information will be officially confirmed from reputable sources. For those interested in the technicalities behind the Zen CPU cores another slide, purportedly destined for the same AMD financial analyst day, leaked out earlier in the week. The slide shows the Zen core block diagram side-by-side with the familiar Excavator block diagram.