A slide purporting to outline the key specifications of the AMD Zen APU has been published by Fudzilla. AMD's Zen will be an x86 APU aimed at enterprise, server and high performance computing systems offering up to 16 cores and 32 threads, support for DDR4 memory up to 256GB/channel and 'Greenland' graphics with up to 16GB of HBM.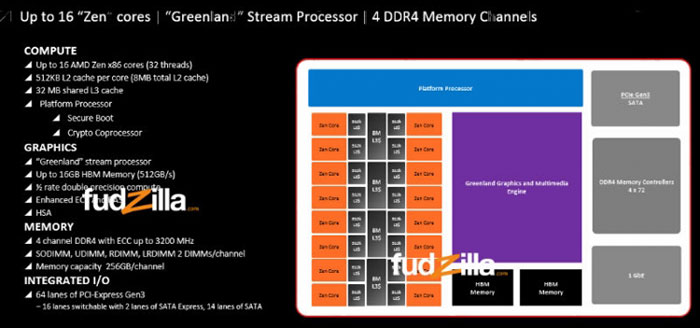 The slide from Fudzilla, as reproduced above, is rather blurry and of unknown origin. However it outlines a very interesting chip from AMD, if it turns out to provide legitimate details and specs.
Starting by looking at the compute component of the APU, it says a Zen chip can consist of up to 16 cores and 32 threads via SMT. This is a departure from AMD's previous module core design as each core will have dedicated resources like 512KB of L2 cache per core, only the L3 cache will be shared, heterogeneously, between cores. Importantly for corporate and business customers the APU will support secure boot and AMD's crypto coprocessor.
The graphic component of the APU is also impressive in its scalability and use of new tech. 'Greenland' stream processors are on board and capable of addressing up to 16GB of HBM (high bandwidth memory). This GPU offers half rate double precision compute capability enhanced ECC and RAS and HSA support.
AMD's Zen APU offers system memory support for DDR4 with four channels up to 3200MHz. Memory capacity can be as high as 256GB per channel. Fudzilla says that the APU has 64 PCI express Gen 3 lanes, where 16 lanes are switchable with 2 lanes or SATA Express and 14 lanes of regular SATA. Combining the components, the general purpose Zen processor cores and Greenland stream processors interface via Global Memory Interconnect (GMI) technology.
While it is fascinating to see this leaked slide, please remember that the details contained in it are not confirmed by any other sources or by AMD.