Intel has announced that it will update the Atom processor range by dividing it into three distinct, easily recognisable processor families. Tipping a hat to the success of its Core iX range of processors the next generation of Atom processors will be subdivided by good/better/best levels of performance into the Atom x3, x5 and x7 ranges respectively.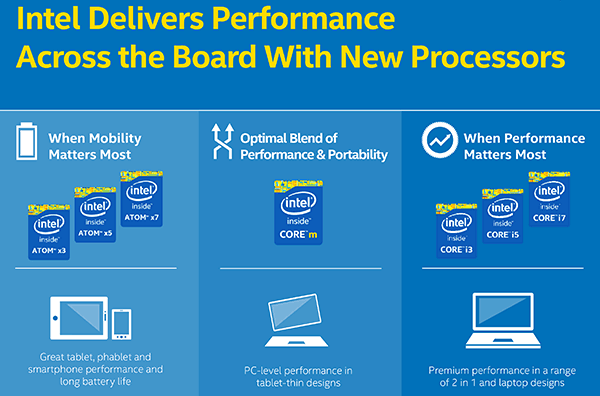 With hybrids and 2-in-1s expected to be popular for the foreseeable future, and with many of them at the cheaper end of the market expected to be Intel Atom powered, making it easier for customers to simply assess Atom processor performance levels is a good move. Rather than having to understand processor SKU numbers a customer can quickly compare brands of Atom-powered devices weighing up all the other variables such as screen, storage, other features and price to get the best device.
Intel describes the new Atom 'brand levels' as follows:
Intel Atom x3 processor provides basic, but genuine Intel level tablet and smartphone performance.
Intel Atom x5 processor has more capabilities and features for consumers looking for a better experience.
The flagship Intel Atom x7 processor provides the highest level of performance and capabilities for the Atom family.
The above infographic shows how Intel rationalises the new Atom range within its consumer offerings. You can see a step above the Atom range is the Core M range which has already started to appear in thin premium tablets and 2-in-1s. Above that, when computing performance is the most important aspect of your device, you have the familiar Intel Core iX range processors.
Tacked onto the infographic at the bottom of the performance section we have the affordable Celeron and Pentium range of processors. It will be interesting to see if these offerings get re-organised as Intel supplies both 'Bay Trail' and 'Haswell/Broadwell' architecture Celerons, for example.

The first Atom x3, x5 and x7 processors will probably be 14nm 'Cherry Trail' parts. More information on the new Atom range is expected to be revealed by Intel at the MWC next week.