AMD has a new strategy which it hopes will lead to more PC makers using its Carrizo chips in their laptop designs next year. The idea centres on a single motherboard design with which any of its upcoming Carrizo or Carrizo-L laptop APUs will be compatible.
HEXUS wrote about AMD's Carrizo family of mobile APUs last month when we first saw official details about the chips. The AMD roadmap presenting these mobile parts shows devices powered by them as mid-2015 products. Carrizo will replace Kaveri, and Carrizo-L steps into Beema's shoes. All the Carrizo and Carrizo-L processors will be compatible with the same motherboard despite their CPU core, performance and target market differences.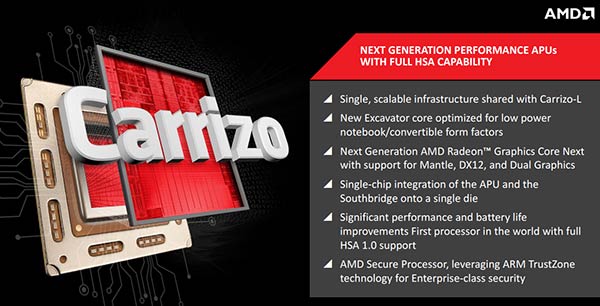 Jason Banta, director of product management for client solutions at AMD, told ComputerWorld that what this means is that buyers will be more likely to get the processor that they want in the laptop they want. PC makers will find it cheaper and easier to make an extensive range of AMD laptops with the new approach. This is expected to help faithful partner HP make an appealingly wide range of Carrizo devices and to attract new partners.
The first AMD Carrizo powered devices may be on show as early as the International CES in a week's time, says ComputerWorld. The more powerful Carrizo APUs offer an "incremental" boost over the Kaveri chips but nothing more specific about performance was said.
If we don't get more information from AMD and its partners about Carrizo(-L) and any associated products next week then we are certain to hear more at the International Solid-State Circuits Conference in San Francisco in February.
Do readers think AMD's single motherboard strategy will appeal?