Intel took the lid off the next-generation Broadwell microarchitecture last week. Though you can read more about it here, Broadwell offers minor CPU-side performance benefits over Haswell but improves graphics potential a notch or two by adding in more shading cores and texturing throughput.
But Broadwell's greatest trick is in reducing energy consumption by a healthy degree when compared to Haswell, made possible by a combination of switching to a 14nm manufacturing process, down from 22nm, and architecture redesign that, across the board, focusses on reducing power draw at every corner. Broadwell's power consumption, or lack thereof, is arguably more important than pure performance.
The sum of these efforts is encapsulated in the Broadwell-based Core M chip. Available in fanless 2-in-1 computers and premium tablets from next month, the processor has a 4.5W TDP, reduced from 11.5W on the equivalent Haswell Core i5-4210Y model.
Llama Mountain
So just how potent is the next-gen Core architecture when limited to 4.5W? To find out, Intel held a controlled benchmarking session at IDF 2014.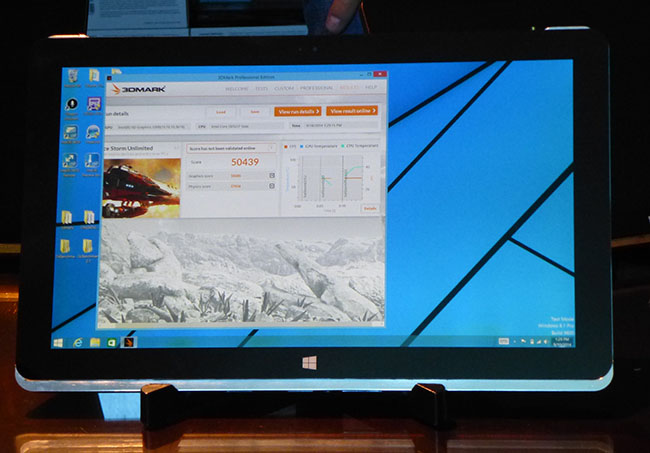 The range-topping Core M 5Y70 processor was housed inside a tablet featuring an Intel reference platform known as Llama Mountain. Using a 12.5in screen with a 2,560x1,440 resolution, the 670g tablet is 7.4mm thin. The Broadwell processor features a configurable TDP, from 3W to 6W, but Intel chose to run it at the default 4.5W, meaning fanless operation. Boosting up to 2.6GHz on the CPU and 850MHz on the GPU, the tablet was smooth and fast in Windows 8.1.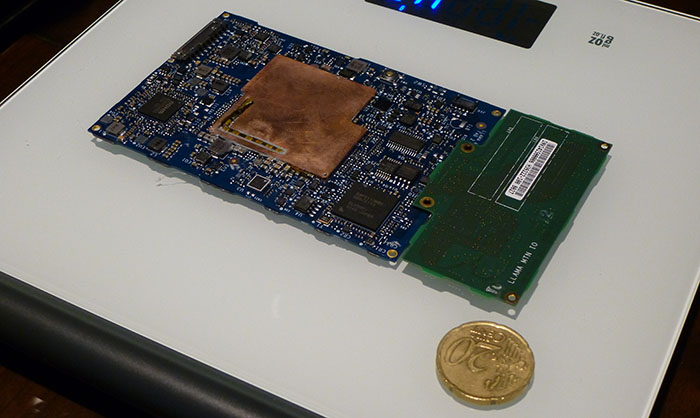 Inside, a tiny motherboard houses the Broadwell processor, platform controller hub and device memory. A connected card provides storage through NAND flash and WiFi connectivity. Presenting a potential wrinkle, Broadwell processors use the second-generation fully-integrated voltage regulator that requires inductors to be placed on to the package. Intel has managed to keep the height of the chip low - and, therefore, tablets and 2-in-1s thin - by using special packaging that enables these inductors to sit underneath the processor on an external PCB. The upshot of this is that the motherboard has a cutout for this additional PCB.
Device manufacturers have been provided guidelines on how best to implement Core M into thin devices, but it will be up to each to determine the best compromise between performance and energy efficiency.
Core power
Firing up the CPU's dual cores and four threads first - which, remember, are a little more efficient than Haswell's - the Llama Mountain tablet returned a Cinebench R11.5 score of 2.75. We use the newer Cinebench R15 in reviews, but referencing older reviews shows it to be only 20 per cent slower than a desktop Core i3-3225 equipped with a 55W TDP; impressive given the Core M 5Y70's meagre power budget that is less than one-tenth the Core i3's. Certainly quick enough for everyday tasks. Compared to a mobile-orientated processor, the score is a touch better than the 2.5 achieved by the Haswell-based Core i5-4250U powering the second-generation NUC.
Switching gears to the HD 5300 GPU, which houses a reworked architecture from Haswell, the 24-EU part cranked out a 3DMark Ice Storm Unlimited score of over 50,000, or 60 per cent faster than that achieved by the latest Tegra K1 GPU inside the Nvidia Shield tablet.
A 3DMark Firestrike score of 522 was also significantly better than the Core i5-4210Y Haswell's 309, though short of the 771 achieved by the 40-EU Intel HD 5000 Graphics contained within the 15W Core i5-4250U. Put simply, the 4.5W Broadwell processor performs like the best 10W-15W parts from the current Haswell generation.
Desktop-like performance?
Intel claims a performance leadership position in the fanless tablet category with the Core M chip, citing a 3x CPU and 2x GPU speedup when compared against a Qualcomm Snapdragon 805-powered device. Being even-handed, that GPU performance lead isn't as great when Nvidia's Tegra K1 is thrown into the mix, however, and the CPU assertion may not stand up to scrutiny if the latest high-end ARM Cortex A-series architecture is taken into account.
Yet comparing against other available tablets is a tad misleading. The Core M is designed to run Windows rather than Android. More pressing, the significantly higher cost of the Broadwell processors - Haswell 4210Y, as a comparison, is $281 for the SoC alone - means that Core M-totin' tablets and 2-in-1s are likely to be priced much higher than ARM-based devices.
Economic ramifications aside, the Core M processor provides desktop-like performance in a fanless, super-slim form factor.