AMD has rustled up a new processor which will shortly join its A-Series APU offerings. The new processor is called the A10-7800 APU and is based upon the 28nm AMD Kaveri architecture. This processor is multiplier locked, as you might have guessed from the lack of the 'K' suffix.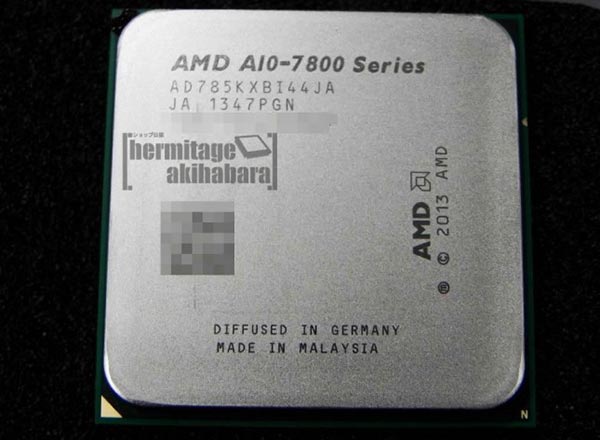 The AMD A10-7800 APU works with socket FM2+ motherboards and this accelerated processing unit has the following key specifications:
Steamroller Cores: 4
Turbo Core 3.0: yes
Base/Turbo clock: 3.5/3.9GHz
L2 Cache: 4MB
Graphics: Radeon R7, 512 cores, 720MHz
Memory support: DDR3 memory up to 2133MHz
TDP: 65W
AMD APU savvy readers will observe that this latest APU model offers processing specifications somewhere between the A10-7700K and A10-7850K – which are both unlocked parts. It has better graphics and a 0.1GHz faster Turbo Clock than the A10-7700K but equal graphics and a slower Base clock and Turbo clock Steamroller cores (by 0.2GHz and 0.1GHz respectively) than the flagship A10-7850K.
However, an advantage for non-overclocking types of this new AMD A10-7800 APU is the much lower TDP. Both the 'K' processors mentioned in the comparison above have a 95W TDP. US pricing for the new APU is expected to be in the region of $150.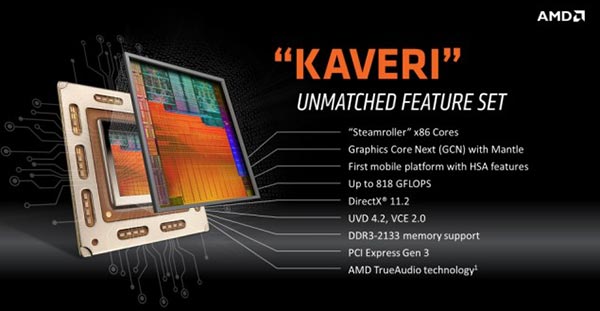 AMD also launched a new video advertisement yesterday, showing off the benefits of its A-Series APUs – "turning everyday computing into extraordinary computing," see below.