Today AMD launched a second generation of its R-Series APUs and CPUs, aimed at the embedded market. The platform was previously codenamed 'Bald Eagle' and has been purposed for; gaming machines, medical imaging, digital signage, industrial control and automation (IC&A), communications and networking infrastructure. The chips are particularly suitable for the more demanding applications in these areas, as they provide "industry-leading compute and graphics processing," capabilities.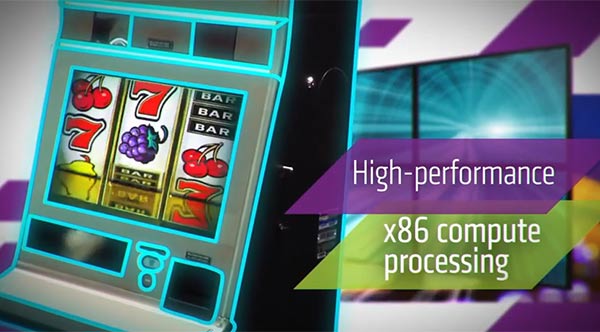 Announcing the chips Scott Aylor, corporate vice president and general manager at AMD Embedded Solutions, said that the second generation R-Series will lead the embedded market in compute and graphics performance as well as performance per watt. "The addition of HSA, GCN and power management features enables our customers to create a new world of intelligent, interactive and immersive embedded devices," he explained.
The new chips range from 2.2-3.6GHz CPU frequency, utilising Steamroller cores. The APUs in the series integrate the GCN architecture with clock speeds ranging from 533-686MHz.
Gaming machines and digital signage
AMD says that its latest R-Series chips can achieve "up to 64 per cent more 3-D graphics performance than a standalone 2nd generation AMD Embedded R-series APU". For immersive and interactive visuals used by signage and gaming machines this can be a boon, we are told. The systems are also scalable to provide support for up to nine displays thanks to the AMD Embedded Radeon E8860 discrete GPU.
Medical Imaging
The new R-Series is also championed as an ideal match for "clinical and field medical imaging applications across portable, 3-D and 4-D ultrasound, low-dose X-ray, and imaging-assisted surgical systems". With their exceptional imaging performance and low latency due to hUMA the chips can be of great utility for medical imaging.
Communications
While visuals usually aren't usually important for communications equipment the "advanced parallel-compute graphics engine" can be utilised for control plane switching and routing applications. Again we see a big increase compared to the previous generation R-Series chips – the latest chips are up to 66 per cent faster.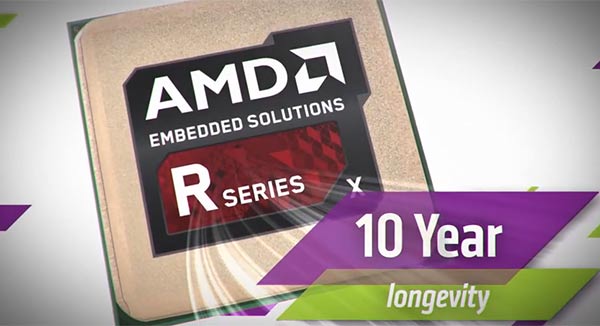 The AMD 'Bald Eagle' platform can be used with Linux, RTOS and Windows operating systems. The chips are to be sold with a 10 year longevity commitment. We don't have details of availability or pricing at this time.