AMD announced its plans to move towards 'Ambidextrous Computing' on Monday. This initiative will result in the production of pin-compatible x86 and ARM processors which will be known as 'SkyBridge' chips. Users will be able to use either type of chip on the same motherboard with few, if any, other changes.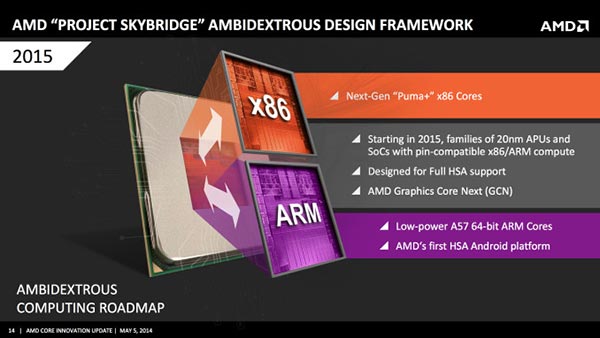 "Before today, AMD was the only company in the world to deliver high performance and low-power x86 with leadership graphics. AMD now takes a bold step forward and has become the only company that can provide high-performance 64-bit ARM and x86 CPU cores paired with world-class graphics," said Rory Read, AMD president and CEO. "Our innovative ambidextrous design capability, combined with our portfolio of IP and expertise with high-performance SoCs, means that AMD is set to deliver ambidextrous solutions that enable our customers to change the world in more efficient and powerful ways."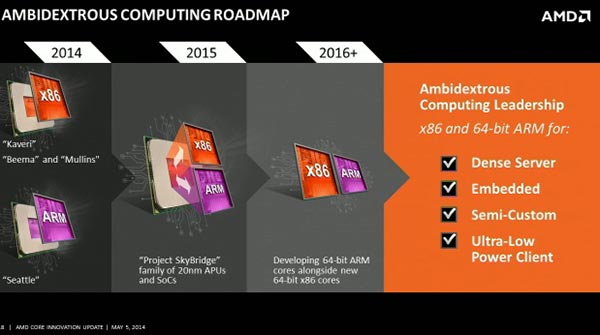 Project SkyBridge is expected to come to fruition next year. It will feature both new x86 APUs that include next generation 'Puma+' cores and also a 64-bit ARM chip based around ARM Cortex-A15 cores. Both of these chip families will be manufactured at 20nm and feature full SoC integration including AMD Graphics Core Next (GCN) technology, HSA, and AMD Secure Technology.
Another major part of AMD's 'Ambidextrous Computing' roadmap includes the introduction of the K12 ARM core processor, expected to arrive in 2016. This is said to be a low power ARM core based chip designed by Chief CPU Architect​ Jim Keller (previously of Apple and before that the designer of the AMD Athlon line).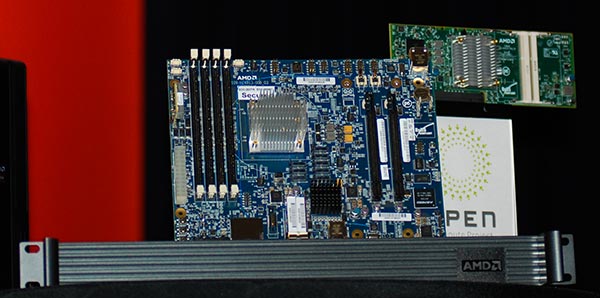 AMD 'Seattle' demoed.
AMD also carried out the first public demonstration of its 64-bit ARM-based AMD Opteron A-Series 'Seattle' processor yesterday. It was running Fedora Linux which is popular with enterprise developers worldwide. Demonstrating this Linux system working on its new chips AMD showed that companies won't find it too difficult to transition to ARM-based servers as there won't be a need to use entirely new software. AMD hopes the chip/software demonstration marked a significant step in the progress of moving data centres to ultra-efficient 64-bit ARM processors.