AMD has announced its third generation of APUs aimed at low-power and mainstream categories. These chips were formerly codenamed 'Mullins' and 'Beema' respectively. It is claimed that the new range of processors offer category leading performance per watt, advanced power management and an integrated ARM core dedicated to security tasks. This, AMD believes, will give the end user "the best user experience," in the intended target markets of tablets, 2-in-1s and mainstream notebooks.

The new processors offer up to four newly designed 'Puma' x86 CPU cores, updated Radeon R Series graphics processing and an ARM Cortex-A5 dedicated to data security on a single "power sipping" SoC. Some of the designs based upon these new processors will be able to be fanless.
AMD highlights the 'Enhanced Security' on offer thanks to the ARM Cortex-A5 featuring ARM TrustZone technology as a standout feature. This system is said to partition the new processors into " two 'virtual CPUs' – a 'secure world' and a 'normal world' based on the type of data being processed – and ensures secure storage and processing of sensitive data and trusted apps including online payments, digital rights management and enterprise- and web-based services".
The following differentiated user experiences are on offer:
Best video streaming experience: thanks to AMD Quick Stream and AMD Perfect Picture with AMD Steady Video
Best UI experience: thanks to AMD Gesture Control and AMD Face Login
Works great for both Windows and Android: thanks to the AMD optimised BlueStacks software
Other features AMD has integrated into these processors to make them stand out from the crowd include; AMD Enduro technology to extend battery life, AMD Start Now to facilitate fast booting and resuming and AMD Turbo Core which senses when a computing task needs a boost from the processor.
Compared with Intel processors
Mullins - Tablets and 2-in-1s category Benchmark:
The AMD A4 Micro-6400T beats competitor Bay Trail T Atom Z3770 by 1389 to 1211 in PCMark 8 V2 Home. In the OpenCL Compute Base Mark benchmark the same AMD processor beats the Intel one by 13 to 4.
Beema - Mainstream notebook category benchmarks:
The AMD A6-6310 beats the Intel Pentium N3510 (Bay Trail M) by 1923 to 1331 in PCMark 8 V2 Home. The same pair of rival processors score 778 and 233 respectively in 3DMark 11.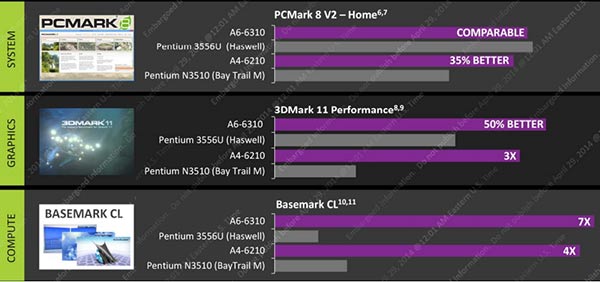 Compared with previous AMD processors
The Mullins processors are said to offer 2x the graphics performance-per-watt and nearly 2x the productivity performance-per-watt of the AMD Temash range. Its Beema APUs also boast impressive progress with up to 100 per cent better graphics performance compared to Kabini whilst using 20 per cent less power overall.
So when and when will we see some Mullins and Beema powered devices? AMD says that big players like Samsung and Lenovo have already announced products based upon these new chips and there will be "many more".