You may remember that in June of last year processor juggernaut ARM announced the Cortex-A12 chip. Designed as a replacement for the Cortex-A9 yet offering up to 40 per cent more performance with the same energy expenditure, quad-core Cortex-A12 was seen as the ideal CPU for mainstream smartphones, tablets and smart TVs in 2014 and 2015.
ARM estimates the mainstream market in 2015 to be worth upwards of 500m devices, so having decent CPU and GPU - and by inference System-on-Chip (SoC) - representation is a must. Now, however, ARM is updating its 2015 roadmap with a revised Cortex processor.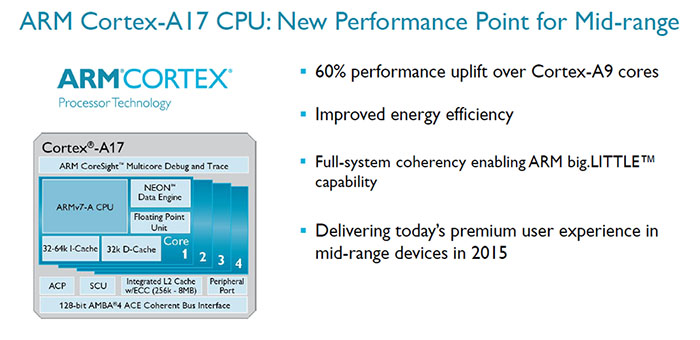 This processor is the Cortex-A17, which, according to ARM, provides up to 60 per cent performance uplift over the popular Cortex-A9. So how is Cortex-A17 different from Cortex-A12? The answer is there's very little difference between the two. Speaking to ARM representatives, improvements in the memory subsystem via a faster, more efficient interconnect and better-than-expected yields mean that ARM is comfortable in effectively renaming the Cortex-A12 architecture to Cortex-A17. We're not sure why ARM didn't continue with the Cortex-A12 naming; the first iteration of Cortex-A9, for example, is barely recognisable from the same-named processor shipping today.
A number of partners have already taken up the Cortex-A12 processor and scheduled it into mainstream handsets and tablets - we saw a Rockchip RK3288 SoC at CES 2014 featuring this CPU core. Cortex-A17 is sampling at the end of this quarter and it is likely that partners will move over as soon as practicable - they remain free in choosing core counts, frequency and implentation, depending upon type of license held. ARM has confirmed that only Cortex-A17 will offer full-system coherency and consequently big.LITTLE compatibility.
ARM sees no immediate need for mainstream mobile devices to use anything other than 32-bit computing, and there are no current plans to bring the ARMv8 32/64-bit architecture to sub-$350 handsets that characterise the mid-range market.
Cortex-A17 is to be fabricated on the established 28nm process. This makes most sense as, according to ARM, it offers partners the optimum balance between cost and power. Leading-edge processes are reserved for high-end processors such as the Cortex-A57, where performance, and not necessarily cost, is the primary criterion. Following this line of thinking further, Cortex-A17 will not use advanced FinFET technology until a later date.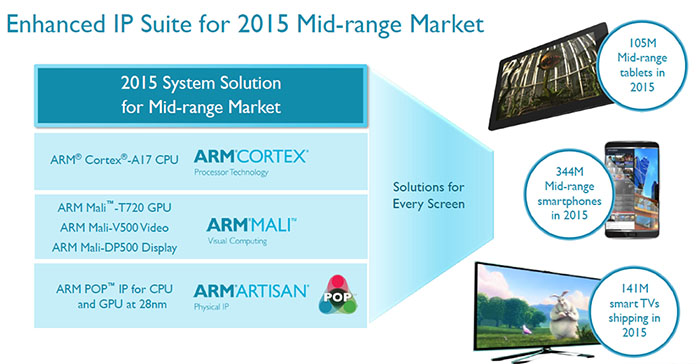 ARM's mainstream product stack includes the Cortex-A17 CPU, Mali-T720 GPU, and Mali-V500 video processor. Newly added to these is the Mali-DP500 display controller, whose provenance lies squarely with ARM's acquisition of the PANTA family of display processors from Cadence. The main purpose of the Mali-DP500 is to enable power-efficient, secure transmission of protected video from source, through the SoC, and to the display, with PANTA's IP adding the final piece of the jigsaw. The PANTA cores have been co-developed with ARM, meaning that there should be little trouble in integrating them with extant Mali graphics technology.
It is absolutely imperative that ARM has a strong presence in the ever-growing mid-range market. The updated Cortex-A17 CPU core, new Mali graphics, and video and display technology offer partners a one-stop shop for creating performance- and price-competitive SoCs.