AMD has just announced the new Kaveri APU range at the CES in Las Vegas. This is AMD's most advanced APU ever and includes several key enhancements over the previous generation of accelerated processing units. In performance terms AMD says the new chips could benefit end users by providing up to 50 per cent more GPU performance and up to 20 per cent more x86 instructions executed per cycle as well as HSA performance benefits well beyond this.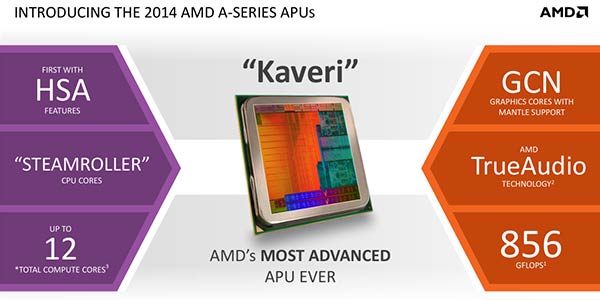 The new AMD Kaveri APU range features Steamroller CPU cores and GCN graphics cores with Mantle support. What is more the general purpose and GPU components work together thanks to HSA and hUMA. Kaveri APUs offer up to 12 compute cores in total (AMD adds 4 x CPU cores to 8 x GPU cores to derive this figure). Several of the new chips also include AMD's TrueAudio technology.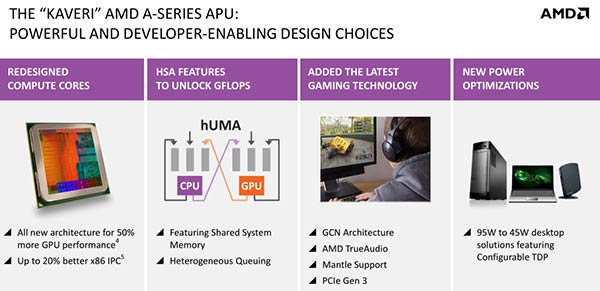 As you can see from the slide above, AMD boasts of quite a wide range of benefits for its new APUs. Probably the most important improvement to the chip as a whole is the HSA compliance. This architecture allows both the CPU and GPU cores to work together in some tasks utilising the hUMA memory system.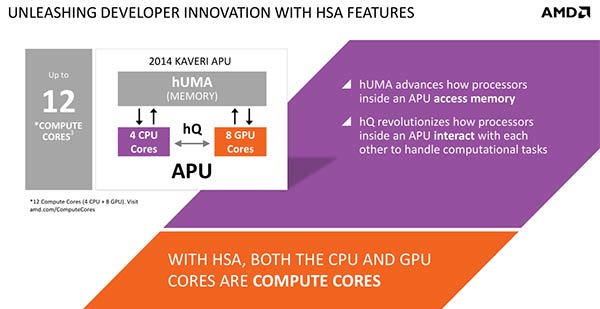 As you can see by the slide below, if an application makes use of HSA acceleration it can make a huge difference to processing time.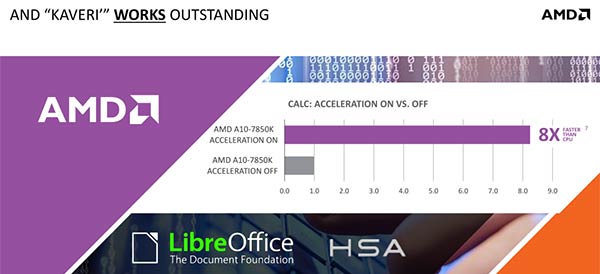 For folk waiting impatiently to upgrade to one of AMD's latest processors we are told that Kaveri APUs will be "on the shelf" from 14th January. Furthermore chips including the A10-7850K and A10-7700K which include Radeon R7 graphics are pre-orderable "from select system builders" from today onwards.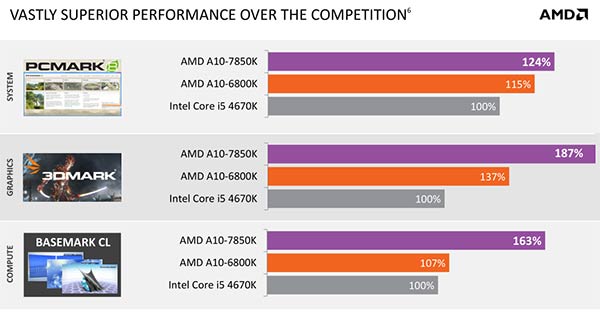 Incidentally Legit Reviews has already posted an interesting little video, before we were allowed to publish the official details of the AMD Kaveri APU. Take a look below at the Kaveri A10 APU powered briefcase...