MediaTek Incorporated of Taiwan today announced the launch of the MT6592 System on a Chip (SoC). The firm claims this processor is the "world's first heterogeneous computing SOC with scalable eight-core processing". The chip is built at 28nm and each core is capable of running each at up to 2GHz. The SoC also includes a quad-core graphics engine which supports Ultra-HD 4Kx2K H.264 video playback.
MediaTek claims to be a price-performance leader and the MT6592 will be used to build on the success of existing MediaTek quad-core mobile platforms. The new SoC utilises MediaTek's Heterogeneous Computing (HC) architecture, distributing the workload to different kinds of processors and other specialized computing engines to optimize performance. The 28nm chip's ARM Cortex A7 cores can be used "in any combination" while temperature and power consumption are monitored to keep the processor ticking away without incident. MediaTek compares its true octa core processor with competitor examples in the chart below.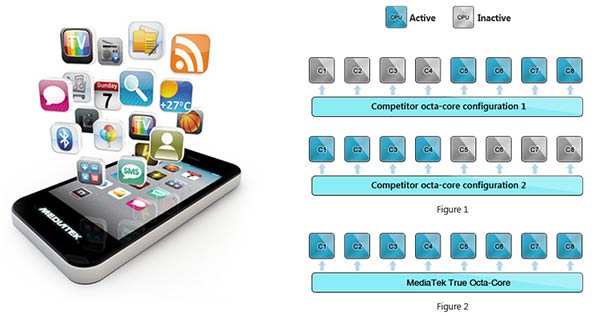 "We are thrilled to offer the new MT6592 to our customers as part of our ongoing commitment to providing inclusive mobile technology," said Jeffrey Ju, MediaTek General Manager, Smartphone Business Unit. "The MT6592 delivers longer battery life, low-latency response times and the best possible mobile multimedia experience. Being the first to market with this advanced eight-core SOC is testament to the industry-leading position of MediaTek."
Of course an SoC is more than a collection of CPU cores and the MT6592 also boasts a quad-core ARM Mali graphics engine which can support Ultra-HD 4Kx2K H.264 video playback and video frame rate smoothing to 60fps. Looking at communications capabilities, the SoC's advanced multi-mode cellular modem enables dual-band 801.11n Wi-Fi, Miracast screen-sharing, Bluetooth, GPS and an FM tuner.
The new octa-core MT6592 processor is expected to be available in Android devices before the end of 2013. Also it will be powering Android KitKat devices on the market early in 2014.