AMD has announced the date of availability of its Kaveri APU at the APU13 developers conference in San Jose, California, which ends later today. This desktop APU will be available at retail from 14th January, a week after the CES2014 show. AMD boasted of a headline performance figure of 856 GFLOPS from the new processor, which utilises a heterogeneous system architecture, where compute and graphics cores share the same system memory.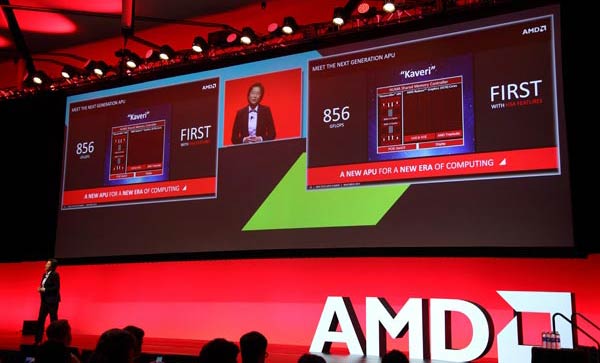 The flagship of the new Kaveri APU range at launch and the one for which the 856 GFLOPS performance was quoted is called the A10-7850K. This APU will feature 4 compute cores (two Steamroller modules) clocked at 3.7GHz and a GPU clocked at 720MHz (with 8xGCN 1.1 compute units, 512 cores – similar to a Radeon HD 7750). The APU is manufactured on the 28nm process by GlobalFroundries.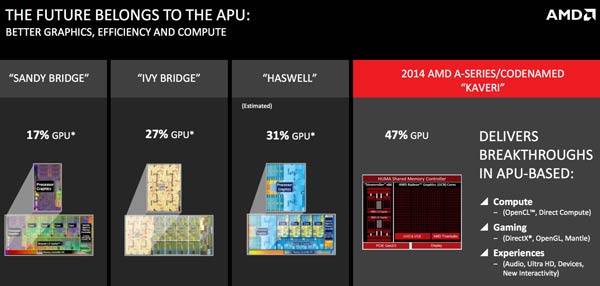 The CPU and GPU components are connected via a hUMA (heterogeneous Unified Memory Architecture) controller so they can access the same RAM and pass data to each other simply, quickly and directly. The hope is of a great boost to performance, with the GPU being much better utilised in many non-graphics orientated general purpose computing tasks.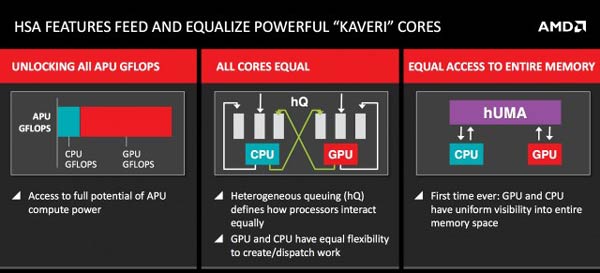 The new Steamroller cores in Kaveri will also help to bring more general purpose computing oomph to this APU. The Steamroller cores have been tweaked to be power optimised, optimised for loop behaviours and floating point performance. In addition the L2 cache can be dynamically adjusted in size depending upon the power mode the chip is running in.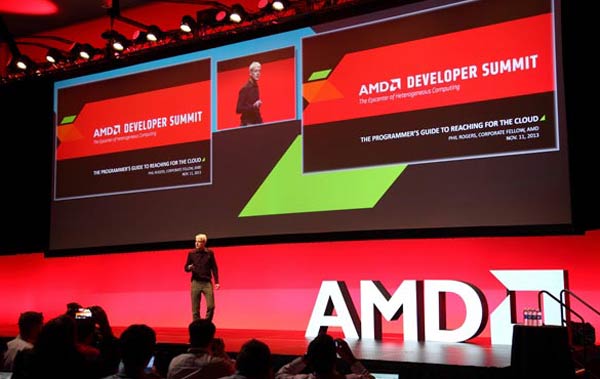 Kaveri is supported by the AMD Mantle API and is also TrueAudio compatible. The Kaveri chips will be compatible with desktop FM2+ boards and laptop Kaveri chips will follow later in the year. Further details of the range, including that crucial pricing information, are expected at CES in early January.