New AMD slides detailing the launch schedule of AMD's Kaveri desktop APUs have come to light today via VRZone. The slides show that engineering and production candidate samples have already gone out but initial production isn't going to kick off until the end of December with availability targeted for the channel and OEMs in February 2014. There will be three APUs launched initially, two A10 models and an A8.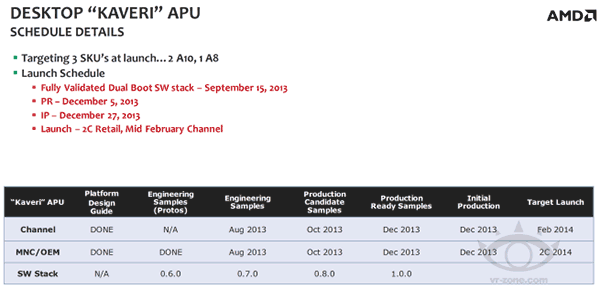 It is thought that AMD will officially announce the Kaveri chips on 5th December when the production ready samples become available. However this will be basically a 'paper launch' as the chips won't be generally available with initial mass production starting on 27th December. A Taiwan-based OEM has confirmed to VRZone that the production candidate samples have just been delivered, on schedule. We should see a lot more of Kaveri and associated hardware at CES 2014, shortly before it becomes available.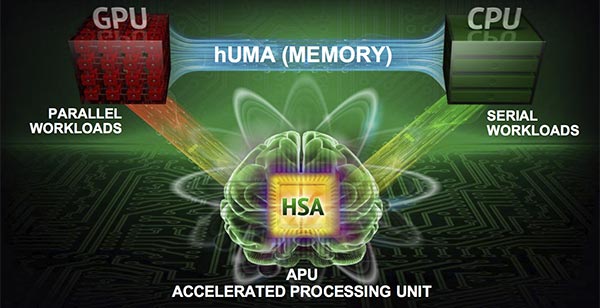 Desktop Kaveri APUs will utilise the AMD A88X chipset and a new FM2+ socket package. You can see many of the new features that the new APU boasts in the slide below.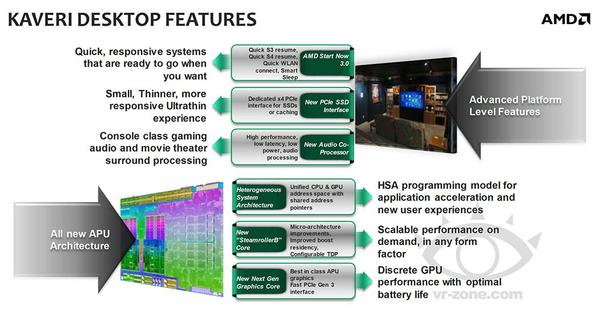 click to zoom-in
Notably Kaveri is the first APU to feature AMD's Heterogeneous System Architecture (HSA) with unified CPU and GPU address space. SteamrollerB cores feature microarchitecture improvements with a configurable TDP. Also GCN with a fast PCIe third generation interface are built in. AMD TrueAudio technology or similar features too, with low latency audio processing enhancing your games and movies.