Intel's 4th Generation Core Haswell processors are imbued with impressive dynamic range power, running from 11.5W (mobile) through to 84W (desktop). Readers are likely to know that Intel prioritised energy efficiency above all-out performance in the switch between Ivy Bridge and Haswell architectures.
The chip giant may well be taking the same efficiency tack with the next-generation Broadwell microarchitecture, due in 2014. Though information on Broadwell has been scarce at the annual Intel Developer Forum (IDF), CEO Brian Krzanich indicated that the new architecture would enable a 30 per cent reduction in power when compared to equivalent Haswell chips shipping today, with the gains mostly accruing from using a smaller manufacturing process and increased on-chip integration.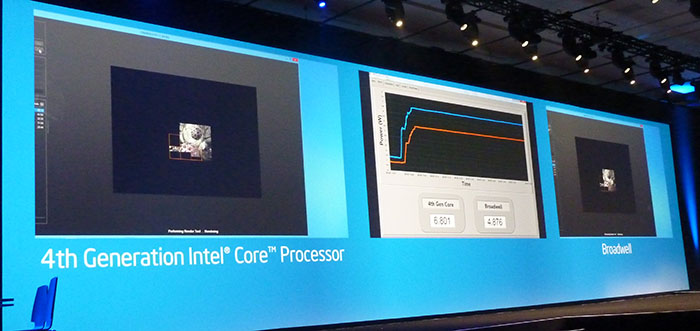 Kirk Skaugen, senior vice president, affirmed that 14nm Broadwell, in mobile form, is very much built with power consumption in mind. He ran through a demonstration that pitted a 4th Generation Core i3 Y-series SoC (11W TDP, 4.5W SDP) against a performance-equivalent Broadwell SoC. The premise here was to show that Broadwell could match incumbent performance while sipping on considerably less power.
Running the all-core Cinebench test, the Haswell SoC averaged 6.8W while the same-socket Broadwell consumed 4.9W - or, in other words, a 28 per cent reduction for the same user experience.
Nothing else of import is yet known about Broadwell, but we reckon it's safe to say that Intel will continue to focus on power consumption more than performance. That Core i5-2500K isn't looking so bad after all, is it?