AMD has unveiled its plans for expansion in the embedded solutions market. This market includes such devices as; industrial controls, automation, gaming machines, thin clients, digital signage, military/aero, imaging, set-top-box and communications infrastructure. With these market targets in mind AMD has shown its roadmap and detailed the following processors; the 'Adelaar' discrete GPU, based on GCN, the x86 'Steppe Eagle' APU SoC, the x86 'Bald Eagle' APU SoC and the ARM-Cortex A57 based 'Hierofalcon' CPU SoC.
The roadmap illustrates AMD's "ambidextrous strategy" as it becomes the first company to offer the choice of ARM or x86 SoCs. These new processors "are designed to offer improvements in performance-per-watt and performance-per-dollar." This is important to AMD as the embedded market is in a growth stage now and that trend is expected to continue, by 2016 it is expected that the market for embedded processors will grow 36 per cent. Being part of this trend will help AMD transform and enjoy profitability.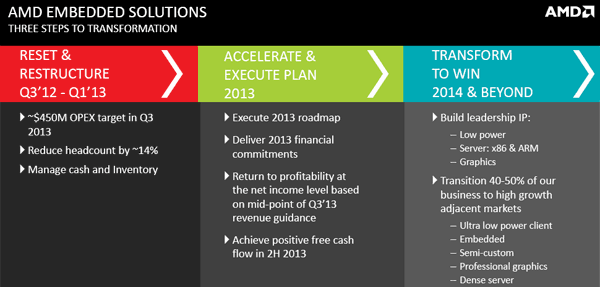 The Roadmap graphic below outlines where the new range of processors will sit in the scheme of things and their estimated times of coming to market as well as their basic specifications.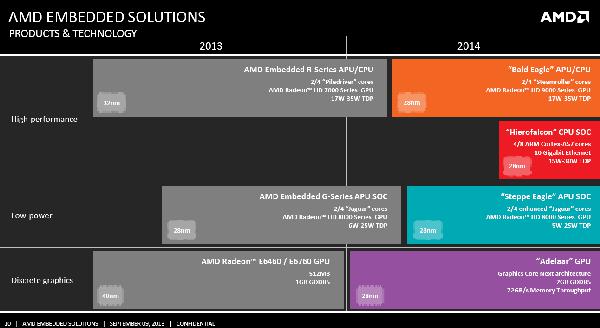 click to zoom roadmap
'Bald Eagle' is the solution AMD will provide to customers requiring high performance next generation digital signage and embedded digital gaming. This APU will feature up to four Steamroller CPU cores and a power optimised Radeon GCN GPU. AMD informs us that it will also feature a flexible, configurable TDP.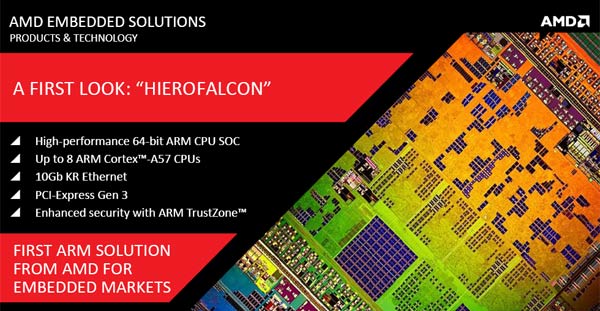 'Hierofalcon' is the first 64-bit ARM-based platform from AMD "targeting embedded data center applications, communications infrastructure and industrial solutions." This part can include up to eight ARM Cortex-A57 cores and will run up to 2GHz. In addition the 'Hierofalcon' SoC is equipped with 10Gb Ethernet and PCI-Express gen-3.
'Steppe Eagle' is an evolution of the AMD Embedded G-Series APU SoC, with 'Jaguar' CPU architecture and AMD GCN graphics. This new processor improves on both the performance per watt and TDP of previous parts. 'Steppe Eagle' processors, extending beyond 2GHz, will become available in H1 2014.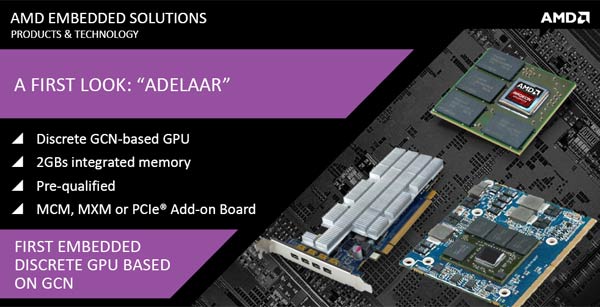 'Adelaar' is the next-generation discrete AMD Embedded Radeon GPU based upon GCN. AMD informs us that this GPU "will deliver rich 3D graphics, multi-display support and support for DirectX® 11.1, OpenGL 4.2 and both Windows and Linux." You can expect to see it in H1 2014 available as a multi-chip module, mobile PCI express module and on PC graphics cards. 'Adelaar' comes with an integrated 2GB of graphics memory.