AMD has announced that it will have its 64-bit ARM processor ready and in production for the second half of 2014. This will be the first such server SoC made by a major chipmaker. The new processor, codenamed 'Seattle', is touted to provide "category-leading throughput as well as setting the bar in performance-per-watt". The new processor will come with eight cores initially, followed by a 16 core version, and offer between two and four times the performance of AMD's recently announced AMD Opteron X-Series processor.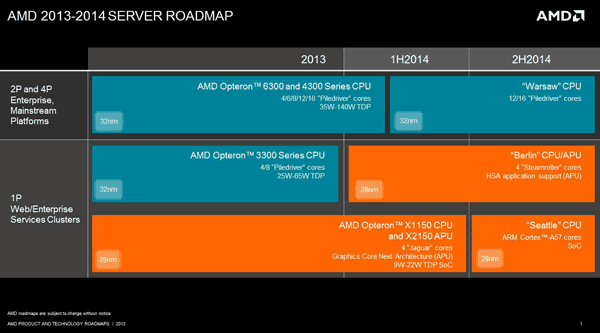 These chips were announced last year but we have seen and heard more details now that AMD has provided its server roadmap for 2013-2014. 'Seattle' will be based upon the ARM Cortex-A57 core and is expected to run at or greater than 2 GHz. It will be initially produced in 8-core designs but these will be followed up by 16-core versions.
The new SoC boasts two to four times the performance of AMD's recently launched Opteron X-Series processors but with a "significant improvement in compute-per-watt." The 'Seattle' SoC will support up to 128GB of DRAM and has implemented "extensive offload engines for better power efficiency and reduced CPU loading, server caliber encryption, and compression and legacy networking including integrated 10GbE". AMD informs us that these will be its first chips to integrate Freedom™ Fabric (an IP gained in the acquisition of SeaMicro) for dense computing systems directly onto the chip. While production is scheduled for H2, sampling of the chips at 28nm will begin in Q1 of 2014.
Why ARM will win in the long run
Ahead of this official server roadmap press release AMD updated reporters on the planning behind its business initiatives. IT Portal reports that at the conclusion of the presentation AMD showed off the slide below, entitled "Why ARM will win in the long run?" The slide made a number of claims but central to its thrust was "In the history of compute – smaller, lower cost, higher volume CPUs have always won". It predicts that following ARM's server chips launch in 2014 headed by 'Seattle' it will win over "substantial market share".