Today at Computex Taipei AMD announced its new line of APUs aimed at the desktop PC market. These new dual and quad core processors, known by the codename Richland, offer up to a 21 per cent graphics performance hike compared to Trinity APUs, according to AMD's own testing. AMD didn't only compare Richland performance with its own processors though, it offered benchmark comparisons with Intel's offerings within its presentation slides.
As usual AMD uses the A4, A6, A8 and A10 prefixes to market these APUs. All the Richland APUs follow this prefix with a -6 (so you can "easily" see they are not Trinity parts, which follow the prefix with a -5). The hybrid CPU and GPUs employ a Radeon HD8XXX GPU component this time round. The new Richland APUs are compatible with AMD's FM2 socket and support the A55, A75, and A85X chipsets. New features such as DDR3-2133 support and enhanced Turbo Core clock throttling technology will be added by the chipmaker.
Please refer to the table below for full details of this desktop range.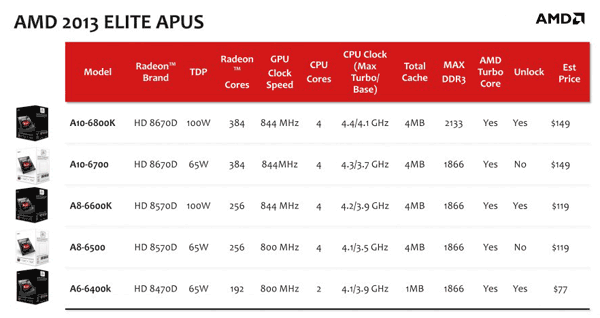 AMD has provided a slide showing the progress of its APU designs over the last few years and the headline figures it chose to demonstrate this is shown below.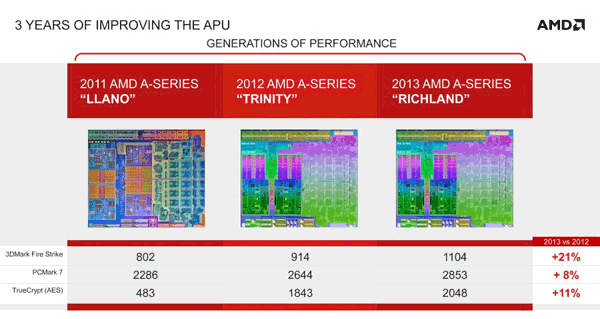 AMD pitches its new APUs against Intel's mainstream i3 and i5 processors and provides comparisons with these, both on their own using the Intel integrated graphics, and supplemented by an Nvidia GT630 graphics card. One of the slides showing the AMD A10-6800K consistently beating an Intel Core i5 4670K (Haswell) with and without support of a dedicated graphics card is shown below.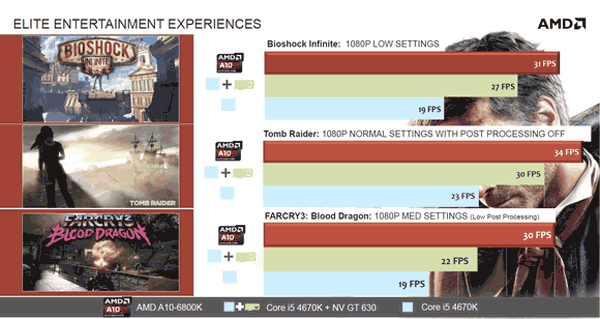 AMD's Adam Kozak said that Trinity processors will continue to be sold for now. Talking about the strength of the Richland offering he said "We're really adamant about balanced architectures being the future of computing".
Summing up the appeal of AMD's new APUs Principal analyst for Moor Insights & Strategy, Patrick Moorhead, said "AMD's Richland desktop APU is really good for end users looking for the highest, base-level graphics performance for games and also for OpenCL-accelerated titles like Adobe Premiere Pro doing colour correction and compressing using 7Zip." He added a point about upgradability; "What's really nice for many current AMD desktop owners is that they can take the new chip and put it into the current AMD motherboard. That saves users a bunch of money and hassle."
The Richland desktop APUs are available now priced from an entry level US$77 up to US$149 for the 4.4/4.1GHz quad-core A10-6800K.
A fortnight ago we saw AMD's detailed plans for portable computing utilising Richland mobile processors, Temash and Kabini APU chips.