Towards the end of Q3, it will have been a year since the release of the first AMD Bulldozer-based CPUs, however, with the design producing poor real-world desktop benchmarks, it could be said that AMD has effectively been at a performance standstill since the release of the Phenom II X6, over two years ago.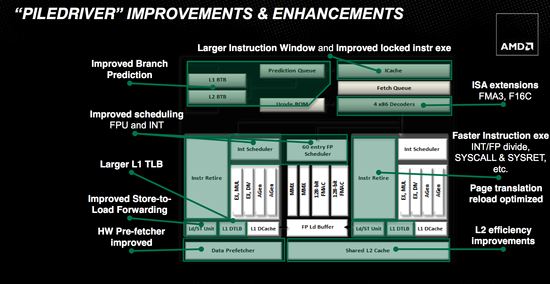 It's good news then, perhaps, that the latest rumours are reporting AMD is to launch its Zambezi line-up sometime around August this year, based on its updated Piledriver core design. The firm has already shown us just what Piledriver is capable of through the release of its new Trinity APU line-up, which has generally been capable of offering improved performance at a lower power consumption, despite remaining on a 32nm production node.
The Zambezi range will remain socket AM3+ compatible, with the head of the pack expected to be the FX-8350, which will feature eight cores with a 4 x 2MB L2 and 8MB L3 cache configuration. As it's likely to feature a 125 watt TDP, we expect the FX-8350 to be clocked 10 per cent faster than its FX-8150 predecessor and, with tweaks to the Piledriver design offering around a six per cent performance boost over Bulldozer at the same clock, according to early benchmarks of Trinity, the FX-8350 may just have enough *umph* to successfully break AMD out of its performance slump.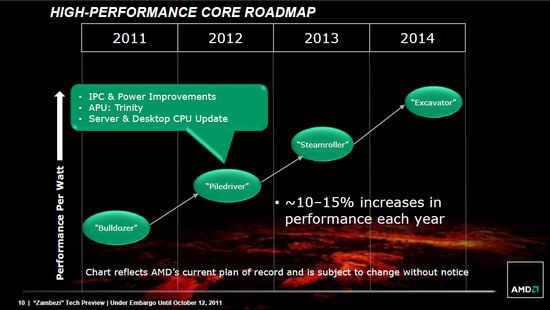 AMD's high-performance roadmap dictates that it expects performance gains of 10 to 15 per cent each year from now on, with processors based on the firm's 'Steamroller' design to follow this year's Piledriver and, whilst Zambezi is long awaited and most welcome, we can't help but wonder what AMD may do with steamroller and heterogeneous computing in 2013. Until then, however, we'll be sure to enjoy AMD's latest performance line-up.