They say competition's a good thing, but trying telling that to the fella in second place.
AMD's already playing catch up to NVIDIA in the extreme GPU stakes - and has cut prices accordingly - but it's also facing a similar dilemma in the CPU market. Intel's Ivy Bridge is all-singing, all-dancing when it comes to benchmarks and marketing, so AMD's attempting to bring its own solutions out of the shadow with the launch of a cashback incentive.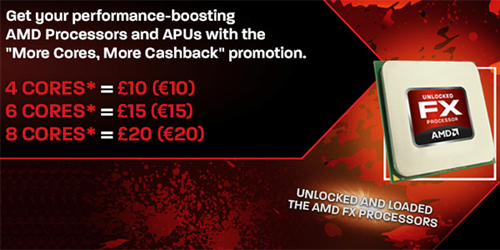 The scheme - dubbed "More Cores, More Cashback" - will run from now until the end of August and will offer up to £20 cashback on a choice of eight AMD processors, including the quad-core A6-3670K APU and the octo-core FX-8120 CPU.
The amount of cashback is dictated by each chip's number of cores and is set at £10 for a quad-core processor, £15 for a hexa-core processor and £20 for the top-of-the-line octo-core parts.
We're waiting to see who the participating retailers are, but these figures suggest that the A6-3670K APU will be available for under £70 after cashback. Not a bad deal, but what we really want is for this cashback incentive to stick around for those upcoming desktop Trinity parts.
Click through to the source link below for futher details on the scheme, as well as a full list of qualifying processors.
[Update] Turns out somebody at AMD jumped the gun. After initially stating that the promotion would start immediately, we're now told "the cash back promotion will not actually be live until 2nd July." Put those credit cards away folks, at least for now.
Source: AMD Promotions