Slides from the Intel Annual Investor Meeting in Santa Clara, Ca. have been published showing the Intel R&D Pipeline, or what is often called a roadmap, from current developments to 2015+ estimates. The infographics show the timescale expected to move from current production of 22nm to estimated production of 5nm lithography, materials and interconnects in 2015+.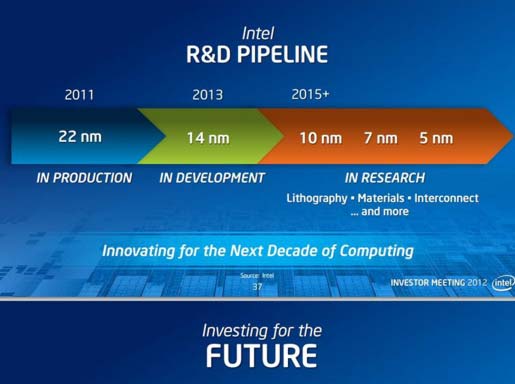 Regular HEXUS readers will know that the newest Ivy Bridge processors from Intel use the 22nm process. From the new roadmap it looks like the next process size reduction to 14nm will come very shortly, just a year or so away. The process can have a significant impact on the power use, performance and of course size of the finished processor so enthusiasts follow this fabrication development closely. The Ivy Bridge 22nm process was however widely regarded as a bit of a disappointment due to the heat issues with the 3D transistor tech brought in to accompany and facilitate the die size shrink. So shrinking the process must be researched alongside complimentary technologies.
There are a couple of recent examples of process shrink advantages from Intel competitor ARM: Last week we found out Apple had secretly upgraded its iPad 2 models with a smaller process CPU which, clocked at the same speed as the previous larger process model, gave very noticeable battery life advantages. Showing the flip side of the equation TSMC shrunk the process size of an ARM chip to produce much higher clock speeds at similar to previous generation power usage. So process shrinkage can be used to facilitate reduced power consumption or higher performance or, more usually, a bit of both.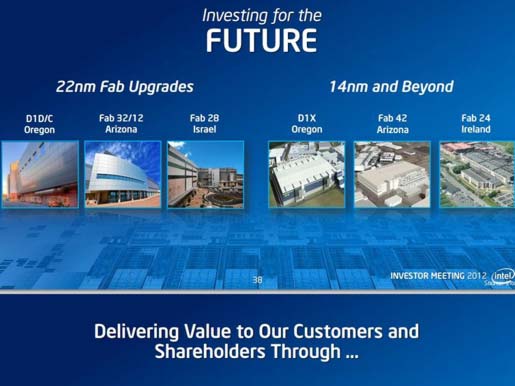 It does seem like ARM is firmly in the sights of Intel with this roadmap. Mobile and tablet markets are looking increasingly attractive compared to laptops and desktops. Intel's mobile chips are currently at 32nm which is on a par with ARMs latest products. Many people have happily paid a lot more for a mobile phone than they have done for their main PC. Especially thanks to what could be described as the "easy payment terms" of a mobile contract. Intel CEO Paul Otellini confirmed the mobile and tablet focus "next year you will see phone and tablet chips shipping at 22nm and the year after that you'll see 14nm."