If you're asking yourself "Hey, aren't quad-core Cortex-A15s already in the pipeline with various ARM clients?" you'd be right. Today ARM has announced what's known as a 'hard macro' design of the Cortex-A15 MP4, to be clocked at 2.0GHz with performance exceeding 20,000DMIPS.
What makes this chip stand out from the rest is that, as a hard macro, the design has already been set-in-stone, enhanced, tested and approved for TSMC's 28nm HPM fabrication process. The idea behind hard macros is to reduce time-to-market and increase yields for firms that don't require heavy customisation of their design and are happy to use TSMC as their chip supplier. The Cortex-A15 MP4 hard macro is designed to deliver strong performance suitable for entry-level notebooks, whilst consuming only a few watts.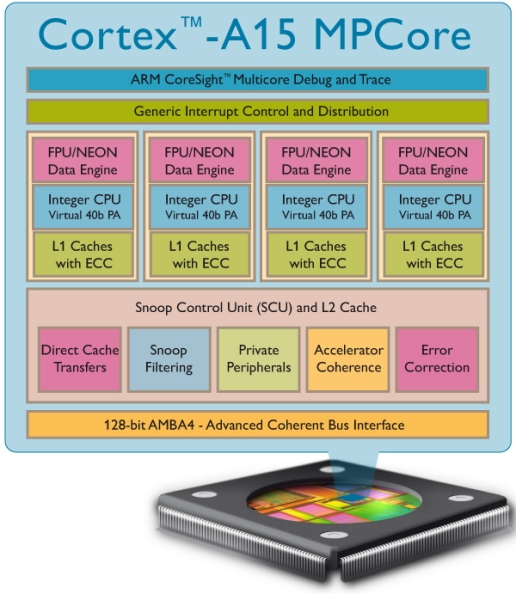 Generating a very rough comparison against another RISC architecture, at 20,000DMIPS the raw performance of the Cortex-A15 MP4 in fact exceeds the performance of the 3.2GHz PowerPC triple-core Xenon found powering Microsoft's Xbox 360 and so, it's easy to see how, with new found support from Windows 8, the ARM architecture could make an appealing choice in the entry-level notebook market.
ARM's announcement was also, in part, to promote some of its chip designing tools that were used to generate the hard macro, such as ARM's Artisan libraries and its new Power Optimization Pack.