AMD has added three new Zambezi/Bulldozer CPUs to its line-up in 2012, according to a leaked roadmap.

Donamihaber has published a slide showing that FX-4150, FX-8120 and FX-6120 models are due to be released in Q1, which means they could land any time between now and April.

The FX-4150 is a quad-core processor with a base speed of 3.9GHz, a Turbo clock of 4.1GHz and 12MB of L2 and L3 cache. Next up, is the six core FX-6120 with a base speed of 3.5GHz, a Turbo clock of 4.1Ghz and 14MB of cache. Finally, the eight core FX-8140 has a base clock of 3.2GHz, a Turbo clock of 4.1GHz and 16MB cache. Each CPU is rated with a 95W TDP.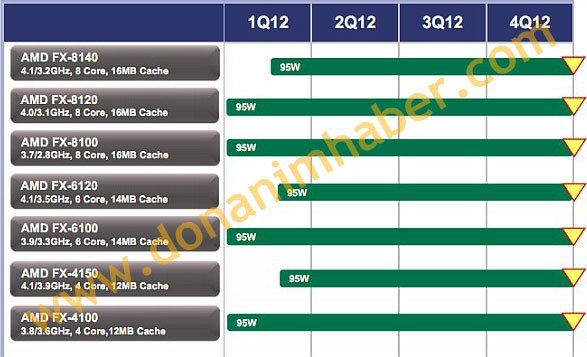 AMD also plans to release its quad-core Trinity APU models with A10 and A8 processors in Q2 2012, followed by A6 and A4 dual-core versions in Q3. It's rumoured that the Piledriver-based Trinity CPUs will also land in Q3.