Since it began to licence out Sound Blaster technology, Creative Technologies has generally slipped under the radar, waking us up from time-to-time to announce a new ZEN music player or refresh to the Sound Blaster line-up. Creative subsidiary, ZiiLabs, however, has been very busy and is now sampling its new ZMS-40 ARM-based CPU and is demonstrating this chip in its Android 4.0 JAGUAR reference tablets at this week's CES.
The CPU is a quad-core ARM Cortex-A9 clocked at 1.5GHz and features 96 'StemCell' general purpose GPU cores. This is not the first chip ever produced by ZiiLABS, however the previous release, the ZMS-20, saw little commercial uptake outside of China. Unlike the ZMS-20, however, the ZMS-40 essentially doubles the number of cores both CPU and GPU, whilst maintaining a similar power consumption or alternatively can operate at twice the efficiency running at the same performance as the ZMS-20.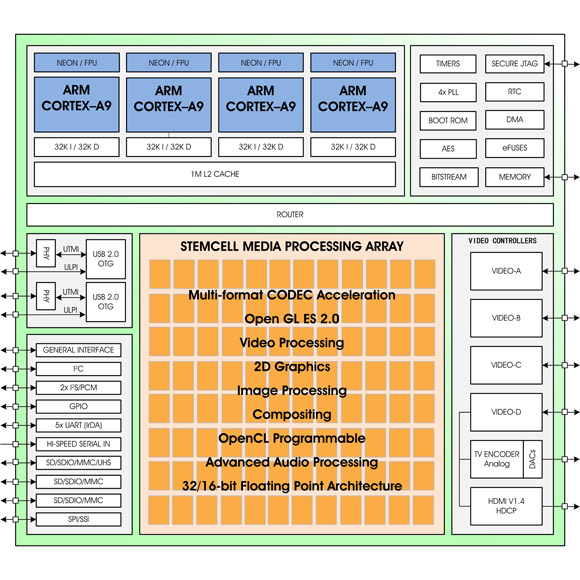 The 96 'StemCell' GPGPU cores are no laughing matter and, according to ZiiLABS, can churn out a gigantic 58GFLOPS of performance, which, to put into perspective is four times the general purpose processing power of the PowerVR SGX543MP2 found in Apple's iPad 2. Whilst graphical performance is reliant on many factors beyond general purpose processing and remains to be seen, the 'StemCell' GPU is perfectly suited for high-performance video encode/decode, Augmented Reality, sound processing, simulation and many number processing heavy tasks and, much like ARM's own upcoming Mali T658 GPU, will feature full support for Android compliant OpenCL 1.1 to enable standardised access to all the raw power.
We're unsure why the ZMS-20 didn't see more light outside of China, perhaps the power consumption of this chip is too high relative to the competition or perhaps it's simply down to pricing, however with the performance figures listed by ZiiLABS, the ZMS-40 looks like a serious contender for the tablet market, with a GPU so powerful that the SoC doesn't even require a dedicated video decoder, leaving the entire chip heavily programmable, ZiiLABS are even claiming it will be capable of handling the future H.265 codec. What's more is, as a Creative subsidiary, the chip features support for Xtreme Fidelity X-Fi audio effects.
ZMS-40 Differentiating Features
Quad 1.5 GHz ARM Cortex-A9 MP Cores
96x fully-programmable StemCell Media Processing cores
58 GFlops StemCell compute power
Wide range of accelerated video codecs including HEVC, H.264, VC1 and WebM (VP8)
True 1920x1080p 3D stereo playback (3840x1080)
Double the CPU performance for enhanced multi-tasking
Double the Graphics and Media performance i
Half the power consumption for longer battery life ii
Support for ZiiLABS enhanced Android 4.0 implementation
2560x1600 (WQXGA) resolution support for next-generation LCDs and Displays
ZMS-40 Key Features
High-Definition, low-latency video conferencing
Optimised OpenGL ES 2.0 for robust 3D graphics acceleration
Accelerated OpenCL 1.1 (desktop profile) integrated into Android NDK
High Dynamic Range (HDR) Image Processing
High-quality Text-to-Speech and Voice Recognition
Integrated HDMI 1.4 with 3D stereo support
2GB addressable memory
DDR2/3 at 533 MHz for low-cost
LPDDR2 for maximum memory bandwidth and low-power
64-bit wide memory bus
Quad independent video controllers supporting 24-bit displays and cameras
3V3 and 1V8 I/O's reduce peripheral power consumption
Dual USB 2.0 HS OTG (Host/Peripheral) controllers with PHY for low system cost
Three independent SDIO/MMC controllers
Extended battery life with robust Dynamic Power Management and Instantaneous On
Enhanced Security: 256-bit AES (Advanced Encryption Standard) and TrustZone