AMD let loose a couple of six-core Phenom II X6 chips a couple of months' ago. Priced at £240 for the 3.2GHz 1090T and £160 for the 2.8GHz 1055T, AMD's hexa-core processors, both rated at 125W TDP, provide significant competition for Intel's mid-range Core i7 quad-core CPUs.

The Phenom II X6 1055T is our pick of the two, providing excellent multi-tasking performance for a reasonable outlay, and the chip is about to become even sweeter to the hordes of enthusiasts as AMD releases it in a lower-power version.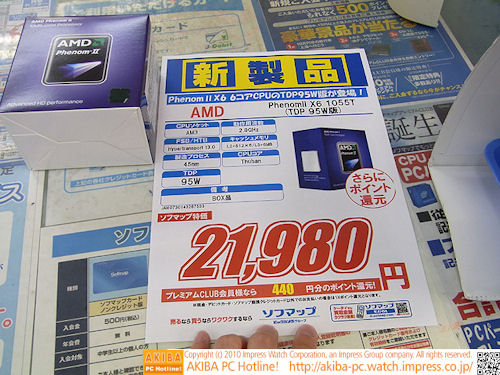 Picture credit: Akiba
Japanese site
Akiba
has snapped pictures of the Phenom II X6 1055T. What's new here is that it ships with a 95W TDP, compared to the 125W TDP for most European stock. A lower TDP is better for the obvious reason that it consumes less power when under full load, and given that AMD has been able to hit the same 2.8GHz with a 24 percent reduction in power, the chip should also overclock like a champ, too.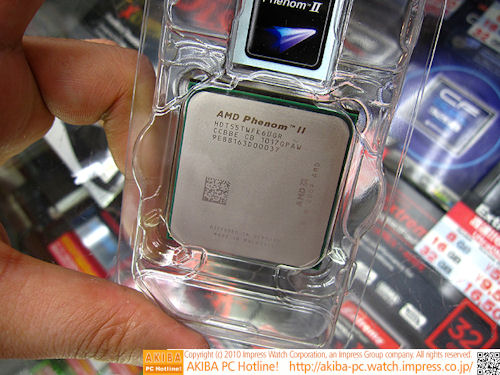 Picture credit: Akiba
Other than a reduction in power, the new chip is
otherwise identical
to the 125W model presented on retailers' catalogues. Interestingly, AMD doesn't
list
the 125W model now, so we can infer that 95W chip - HDT55TWFK6DGR (tray) and
HDT55

TWF

GRBOX
(retail) - will begin proliferating through etailers in the coming days.
Tempted by a 95W 1055T for £160? Be sure to look out for the codes, as the 125W retail-box's code is HDT55
TFB
GRBOX.
Sign in for the best HEXUS experience
LOG IN