A price tag of around £800 for a single processor sounds quite ludicrous, but then, Intel's Core i7 975 Extreme Edition is currently the fastest chip in the world and it's aiming at only one market - enthusiasts.
Speaking of which, enthusiasts may be feeling a tad under the weather with all this news of low-cost and energy-efficient computing. They'll tell you it's all nonsense, and that more power contained by copious amounts of liquid nitrogen is the way forward.
Fortunately for the enthusiast, Intel appears to recognise that the ultra-high-end market is as important as ever and it's demonstrating its progress at COMPUTEX '09 by overclocking a 3.33GHz Core i7 975 Extreme Edition part to a mind-boggling 5.07GHz. With only air cooling, we should add.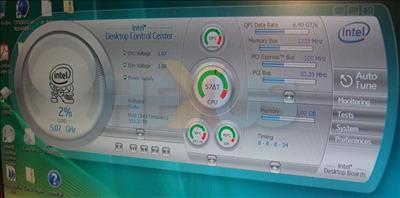 Intel had the chip sitting inside an Acer Predator, with some form of Intel-designed air cooler. The 5.07GHz clock speed is mighty impressive - and the fastest we can recall seeing with air cooling - but it's worth noting that the image's reported CPU voltage is clearly wrong, Intel must have been feeding the chip a whole lot more than 1.07V.
If money's no object, and pushing CPUs to the limit is your thing, the Core i7 975 Extreme Edition seems a no brainer. Better still, Intel reckons the part on display wasn't cherry picked. We doubt all 975 Extreme Edition chips will surpass 5GHz with extreme air cooling, but you're certain to find ample overclocking headroom.