Thermaltake's given us a sneak peek of a forthcoming CPU cooler going by the name of Frio.
The cooler, pictured below (and yes, there's a test system somewhere underneath it), measures 130mm x 92mm x 160mm and promises to be the "real overclocker's choice".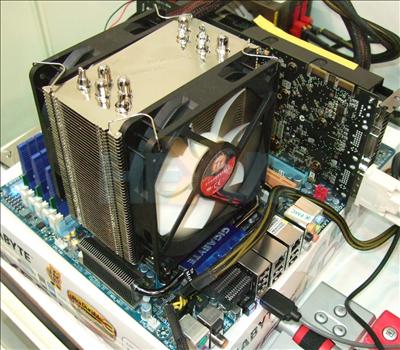 It'll support Intel sockets LGA1366, LGA1156 and LGA775, as well as AMD's AM3, and it's armed with an array of aluminium fins, a copper base and five copper heatpipes. It'll ship with one 120mm fan, with speeds ranging from 1,200rpm - 2,500rpm, and an optional second fan can be added to provide additional cooling potential.
In the depths of its booth, Thermaltake had a Frio-cooled testbed sitting alongside an identical system cooled by a leading competitor - we won't name names until we've done our own testing, but Thermaltake's Frio provided CPU temperatures roughly 10°C lower than the well-respected challenger. It won't hit stores for a few months yet, but it's looking capable.
What else is new in Thermaltake's cooling range? Well, we wouldn't go as far as to call it new, but it's flipping the SpinQ on its side and re-badging it as the SpinQ VT.