Back in April, when IDF was held in Shanghai, China, HEXUS brought you news on the next iteration of Intel's mobile technology.

Now, a few months on, we've seen Intel officially announce the mobile quad-core processor. Popping on down to the tech showcase, which lends a touch of pragmatism to the announcements, we saw the slightly more extreme end of mobile computing.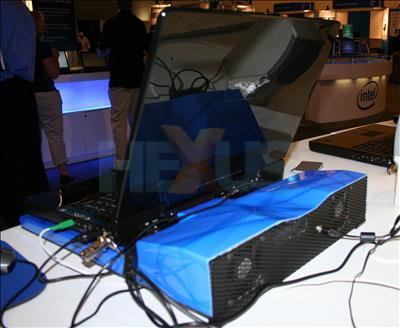 What you're looking at is a desktop-replacement laptop sitting on top of an as-yet-unreleased notebook-cooler from CoolIT Systems.

The cooler, which goes on sale in January for around $120, uses external TEC- and air-based cooling pull the hot air out of the system. Why, you might ask?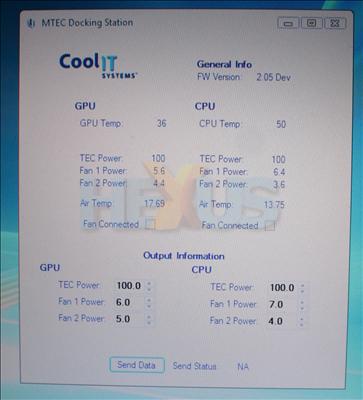 Note the air temperature, in degrees Celsius, around the CPU and GPUs. So what's the speed, Sandhu?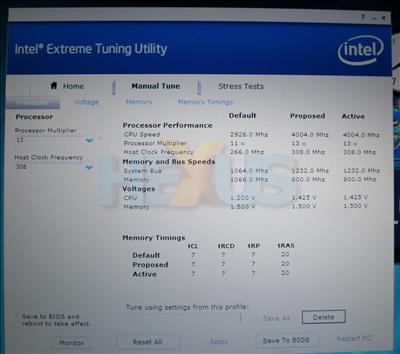 Using the highest-speed dual-core Penryn mobile chip, currently clocking in at 3.06GHz (X9100), and knowing that the XE models are multiplier-unlocked. Intel's Dan Ragland used the Extreme Tuning Utility (Iron City) to overclock the laptop's CPU to over 4GHz, stably. He commented that the noteobook-cooler added around 500MHz over and above what's achievable by using the laptop's cooling alone.

Interestingly, the quad-core model, QX9300, shipping at 2.53GHz, can be overclocked to around 3.5GHz using a large laptop chassis and the CoolIT cooling, Ragland said.

How many folks run a desktop with a 3.5GHz quad-core processor? The line between mobile - if you can call a DTR mobile - and desktop has literally blurred to nothing, especially with the introduction of uber-speedy SSD drives.