At Hot Chips 2020, IBM has unveiled its first commercialised processor that is built on 7nm process technology. The new IBM Power10 processors, fabricated by partner Samsung, is expected to "deliver up to a 3x gain in processor energy efficiency per socket, increasing workload capacity in the same power envelope," as its predecessor, the 14nm Power9. This efficiency boost is anticipated to increase system density, workloads and user capacity as much as threefold in 'hybrid cloud workloads', where IBM hopes to find new devotees.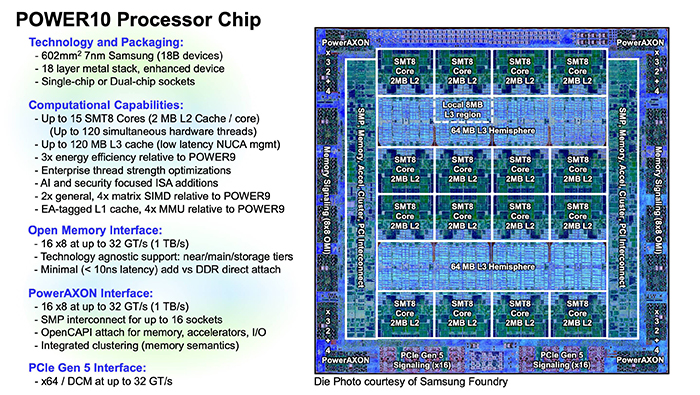 I have condensed the key attractions of the Power10 into the bullet point list below:
New Processor Core Architectures: offer a +30 per cent average core performance, an embedded Matrix Math Accelerator is extrapolated to provide 10x, 15x and 20x faster AI inference for FP32, BFloat16 and INT8 calculations (compared to Power9). Single chip module will offer <15 SMT8 cores, and dual-chip <30 SMT8 cores.
Support for Multi-Petabyte Memory Clusters: support up to 1TB/s with minimal latency. 'Memory Inception' memory cluster sharing.
New Hardware-Enabled Security Capabilities: transparent memory encryption, quadruple the number of AES encryption engines per core (compared to Power9), hardware-enforced container protection and isolation capabilities.
Power: reduced power consumption will reduce data centre costs and reduce footprints.
Open for licensing by OpenPower Foundation members (250 companies inc. Google, Nvidia, Mellanox, and Tyan).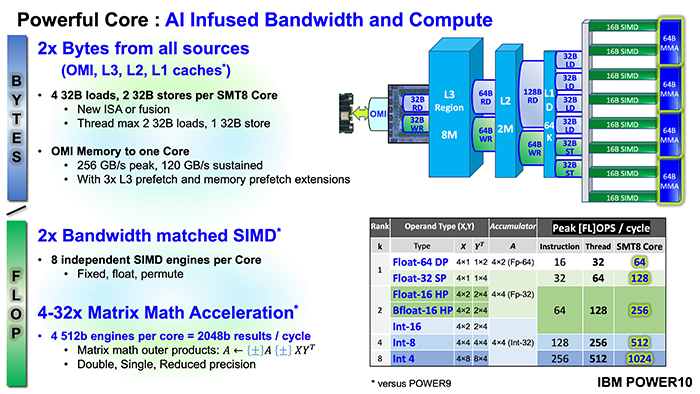 The famous Summit supercomputer, at the U.S. Department of Energy's Oak Ridge National Laboratory, is based on Power9 CPUs / Nvidia GPUs.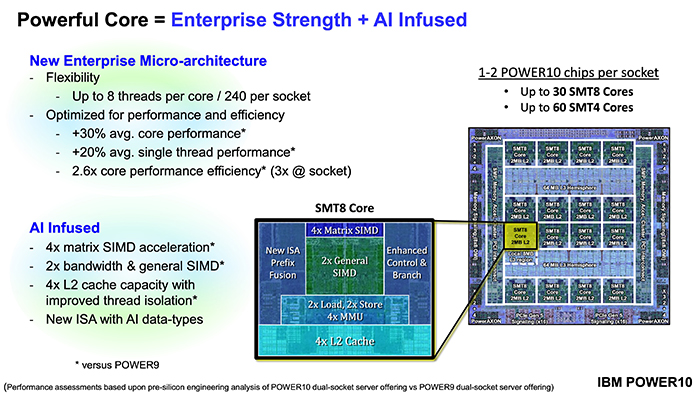 These new Power10 processors are being made by Samsung and are due to ship to partners / customers in H2 next year. Some partners have already been sampling the Power10 in various configurations.