In late November Australian overclocker KaRtA took the 12 core processor wPrime - 1024m crown for AMD. This helped establish the Ryzen 9 3900X as the top dog in this benchmark, easily elbowing past the Intel Core i9 7920X and beating the best the newer Core i9 9920X could offer, by a nose.

At the weekend Jordan.Hyde99 achieved the world record 12C wPrime - 1024m world record, with a time of 35sec 517ms (compared to 35sec 818ms). Thus Hyde, also from Australia, cemented AMD's lead and could bask in the glory of being the world record holder in this particular CPU benchmark.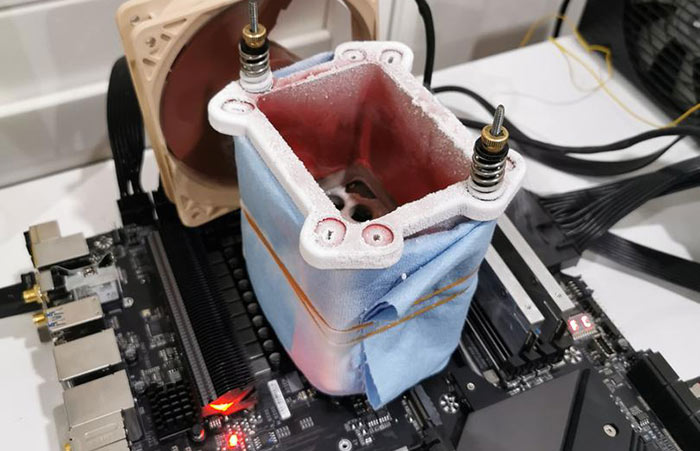 For his world record, Hyde installed his AMD Ryzen 9 3900X 'Matisse' CPU on a Gigabyte X570 Aorus Extreme motherboard and cooled it with liquid nitrogen, as you can see above. His extreme-cooled AMD CPU ran at 5,625MHz which is about 48 per cent faster than stock (for reference KaRtA's processor ran the benchmark at 5,575MHz, on an Asus X570 ROG Crosshair VIII Impact).
However, Jordan.Hyde99's first place in this benchmark category was extremely short-lived. On Sunday, just a day later, well known US-based overclocker Splave fired up a Core i9 9920X installed on an ASRock X299 OC Formula motherboard and reclaimed the 12C wPrime - 1024m crown for Intel.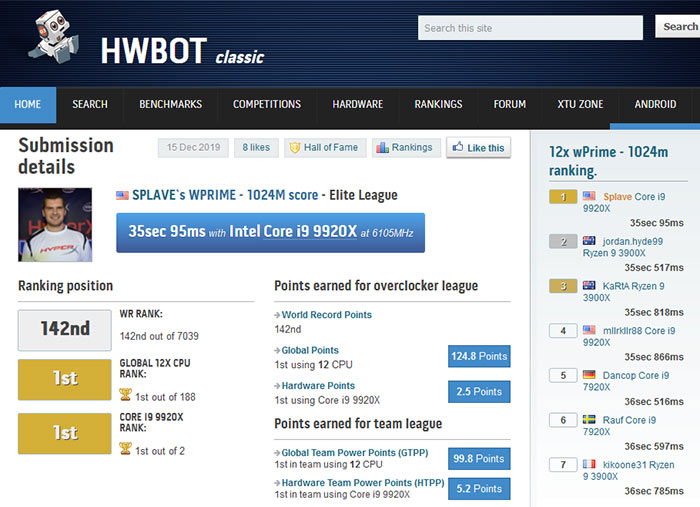 Splave's score in this particular benchmark was 35sec 95ms. The last time Intel had pole position in this particular benchmark was in late August with the Intel Core i9 9920X scoring 35sec 866ms.
What is probably one of the more interesting aspects of this close tit-for-tat battle for the 12C wPrime - 1024m crown is that to gain its slight advantage the Intel processor runs at much higher clock speeds than its AMD rival - both 12C/24T parts of course. You can see above that the times that AMD has wrested the number one spot, the overclocker has ran the Ryzen 9 3900X CPU at speeds in the region of 5.6GHz. The Intel entries in the record table at position 1 and 4, using the Core i9 9920X ran at 6.1GHz and 5.9GHz.