Amazon, or rather its cloud division AWS, has just announced its latest generation of processors for cloud computing. The new Graviton2 processors will be deployed in a range of Amazon EC2 instances tailored for general purpose, compute optimised, or memory optimised tasks.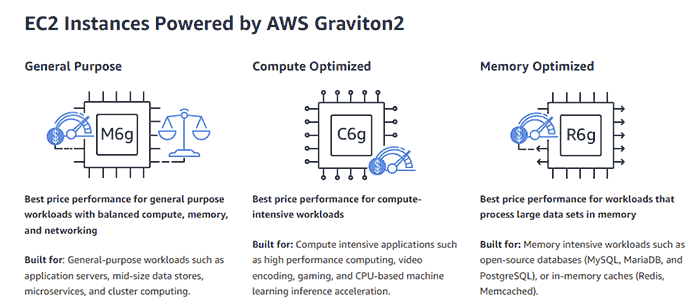 The first generation Graviton processors were launched in 2018 and powered AWS EC2 A1 instances - the first Arm-based instances on the cloud service. Amazon asserts that these have been so successful, with significant cost savings, that now users are looking "to use Arm-based servers on their more demanding compute-heavy and memory-intensive workloads". For a bit of background, the Graviton2 processors are a custom AWS design based upon Arm Neoverse cores manufactured at 7nm.
Graviton2 is a strong step up in specs and performance for the processor line. Amazon says that, compared to the first gen processors, they can deliver "up to 7x the performance of the A1 instances, including twice the floating point performance". Graviton2 also features up to 4x the number of compute cores. Furthermore, additional memory channels and double-sized per-core caches "speed memory access by up to 5x".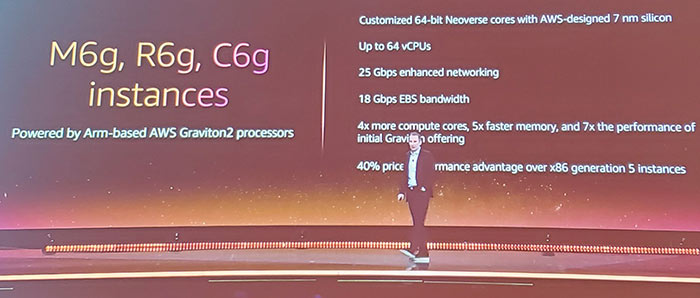 As mentioned in the intro, Amazon has rustled up a number of instances powered by the new Graviton2, tailored to specific workloads. They are listed as follows:
General Purpose (M6g and M6gd) – 1 to 64 vCPUs and up to 256GiB of memory.
Compute-Optimized (C6g and C6gd) – 1 to 64 vCPUs and up to 128GiB of memory.
Memory-Optimized (R6g and R6gd) – 1 to 64 vCPUs and up to 512GiB of memory.
The difference between the g and gd suffixed systems are that the latter feature NVMe local storage. All the instances will have up to 25Gbps of network bandwidth, 18Gbps of EBS-Optimized bandwidth, and will also be available in bare metal form.
In preliminary benchmarks Amazon achieved the following performance uplift scores compared to M5 instances powered by Intel Xeon Platinum 8000 series (Skylake and Cascade Lake SP-based) operating all core-turbo at a sustained 3.1GHz:
SPECjvm 2008: +43% (estimated)
SPEC CPU 2017 integer: +44% (estimated)
SPEC CPU 2017 floating point: +24% (estimated)
HTTPS load balancing with Nginx: +24%
Memcached: +43% performance, at lower latency
X.264 video encoding: +26%
EDA simulation with Cadence Xcellium: +54%
Understandably, Patrick Moorhead, tech industry analyst and founder of Moor Insights, called the introduction of the Arm-based Graviton2 "huge", and said that AWS is "not messing around with M6g".

Amazon is currently running a M6g preview for its partners to test on non-production workloads. It is claimed that Operating System Vendors (OSV) and Independent Software Vendor (ISV) communities have been quick to embrace the Arm architecture and the A1 instances. Would-be users have a wide choice of Linux and Unix distros, three container services, multiple system agents, and lots of developer tools.