Centaur Technologies, a wholly owned subsidiary of VIA Technologies, Inc. based in Austin Texas, has announced a new processor aimed at the server market. The new processor is an octa-core x86 based SoC which differentiates itself by including an AI coprocessor. Centaur sees the new processor being taken up by data centres, edge analytics servers, and so on. Currently this market is addressed by x86 PC/server hardware with GPU add in cards.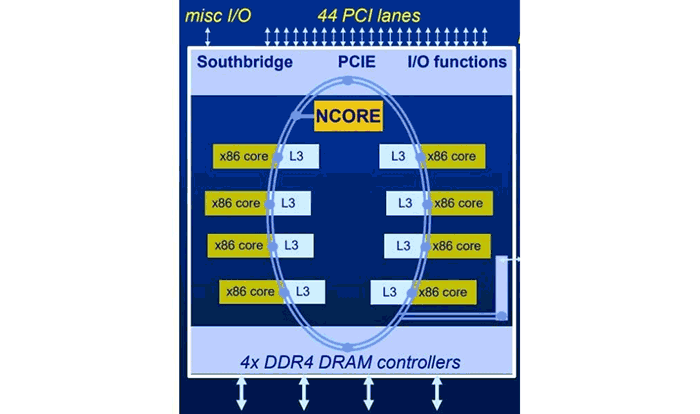 The new Centaur processor is said to include both a new high-performance x86 core and the industry's first integrated AI Coprocessor for x86 systems. Centaur claims a high IPC for server class applications and the support for the latest x86 extensions such as AVX512, as well as other new instruction sets designed to speed up AI data transfer. According to the chief architect of the Centaur AI coprocessor, Glenn Henry (previously of IBM and Dell), the Ncore component in the SoC delivers 50x inferencing performance of a general purpose CPU.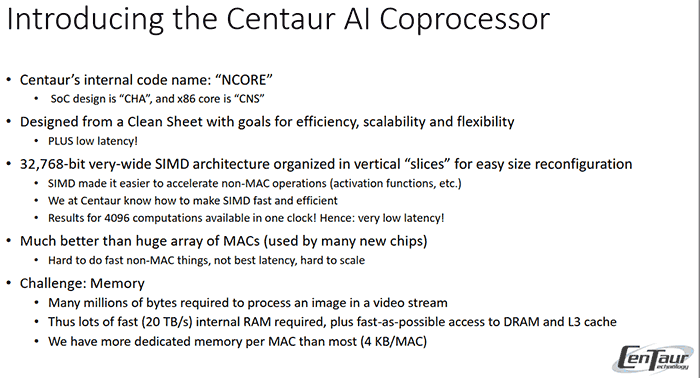 Accompanying the eight x86 cores in the SoC is a "clean-sheet processor designed to deliver high performance and efficiency on deep-learning applications," dubbed the Ncore. This coprocessor frees up the x86 cores for other duties and the whole scalable platform is capable of 20 trillion AI operations/sec (20TOPS) with 20 terabytes/sec memory bandwidth, according to Centaur. The SoC is built by TSMC at 16nm as a 195mm2 chip and provides 44 PCIe lanes and 4 channels of PC3200 DDR4.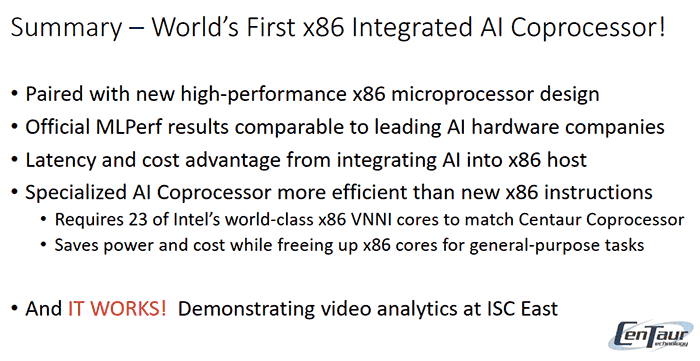 Centaur has demonstrated its new SoC running in a reference system at 2.5GHz. Preview MLPerf scores show that it "can classify an image in less than 330 microseconds while providing inference throughput equivalent to 23 high-end CPU cores from other x86 vendors". Importantly, Centaur's new SoC is claimed to be fully compatible with standard PCs and servers and the integrated AI coprocessor can be augmented by GPU and AI-accelerator add-in-cards.
Centaur will be showing off its new processor at ISC East, booth 751, from 20 - 21st November.