HEXUS published a thorough Intel Core i9-9900KS review last week. The editor noted that Intel achieved the "all-core 5.0GHz speed by selecting the very highest-performing 14nm Coffee Lake silicon and then letting it breathe by increasing the TDP from 95W to 127W." In other words Intel binned the Core i9-9900K for the highest performance to create the 9900KS and then upped the power levels to maintain a base clock of 4.0GHz and steady all-core boost of 5.0GHz.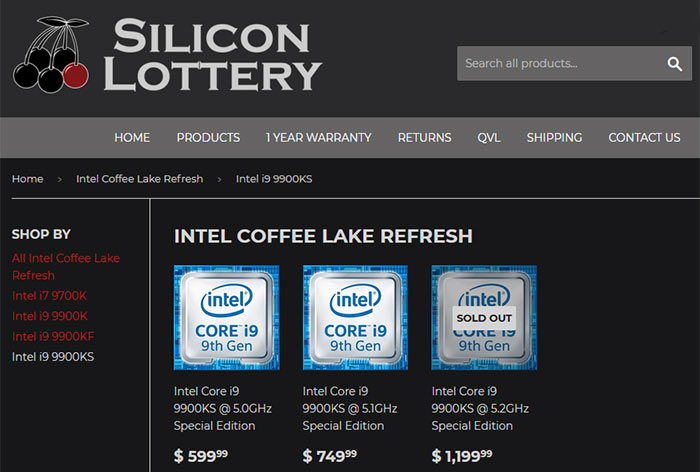 Now a US-based chip sorting retailer, appropriately named Silicon Lottery, has further binned its intake of Intel Core i9-9900KS chips and is selling these according to their performance and overclocking ability. You can see what it is offering in the screenshot above - where you will also see that the US$1,199 Intel Core i9 9900KS @ 5.2GHz Special Edition has sold out…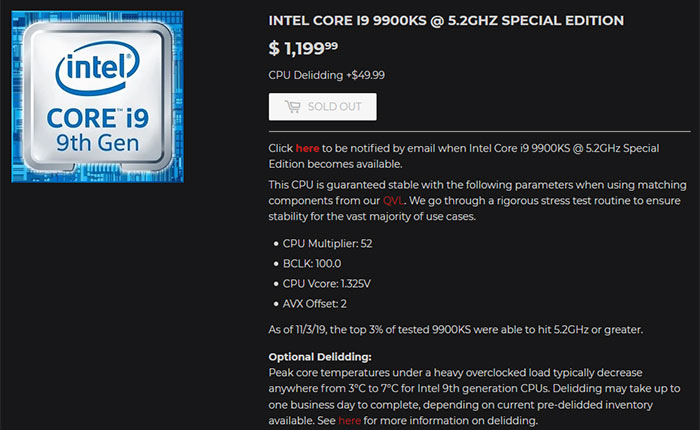 Above you can see the product details of the Intel Core i9 9900KS @ 5.2GHz Special Edition. These chips run at a CPU multiplier of x52, with Vcore of 1.325V and AVX offset of 2. If you were to buy a random Intel Core i9-9900KS from any other retailer, Silicon Lottery asserts that only the top 3 per cent of these pre-binned by Intel chips would achieve this characteristic performance of achieving a stable >5.2GHz at this voltage. For reference, in the HEXUS review we achieved a stable 5.25GHz all-core clock speed at 1.375V - a bit faster, with a bit more voltage using a twin-fan Noctua cooler.
There are still Intel Core i9 9900KS @ 5.1GHz Special Edition chips for sale by Silicon Lottery at the price of US749. For this premium, you get a chip which is capable of running stably at a 51x CPU multiplier using 1.287V. Only the top 31 per cent of chips tested could achieve this.
Buying the Intel Core i9 9900KS @ 5.0GHz Special Edition from Silicon Lottery seems counter-intuitive at $599. Shouldn't you take your chances with another retailer that hasn't removed all the golden samples to sell for a higher price?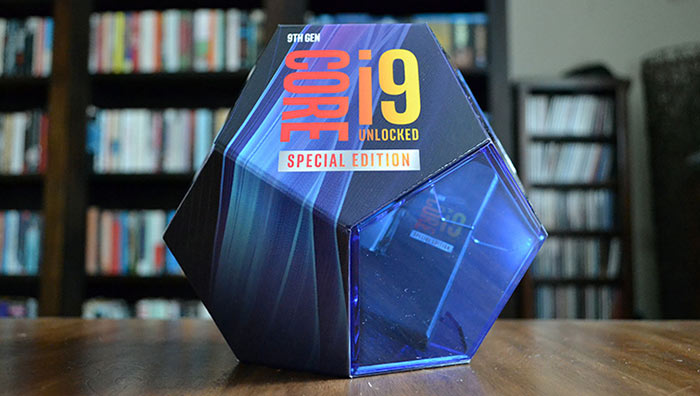 Silicon Lottery validates its overclocks with premium motherboards. Its pricing includes a limited one year warranty that offers a one-time replacement as long as you don't use any gallium (AKA 'liquid metal') or diamond-based thermal interface material to the chip. You can get your 9900KS purchase delidded for $50 extra.