Intel has launched its new 10th Gen X-Series processors for enthusiasts and creators. These chips were originally due in October but have been pushed back to November - going head-to-head with AMD's launch of its newest Threadripper chips for the same audience. As yet we don't have anything in the way of Threadripper specs and pricing but Intel has shared details and pricing of four of its 10th Gen X-Series processors.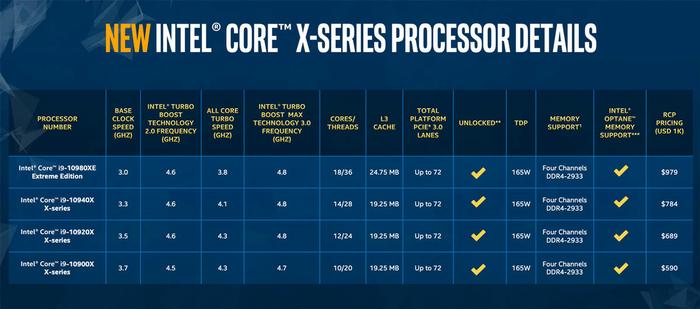 Click to zoom table image
At the top of the new X-Series is the Core i9-10980XE Extreme Edition with 18C/36T, boost up to 4.8GHz, L3 cache of 24.75MB, offering up to 72 PCIe 3.0 lanes, support for up to 4 channels of DDR4-2933, with a TDP of 165W, which is listed at $979. All the chips feature that same number of PCIe lanes, Turbo Boost 2.0, Turbo Boost 3.0 with favoured core(s), Optane support, TDP, and memory support - and are unlocked for overclocking.
Other 10th Gen features present include; Wi-Fi AX200 or (Gig+) support, Intel's Deep Learning (DLBoost) instructions for AI, Thunderbolt 3 support, and Optane 905P SSD support. However, "the Cascade Lake-X chips use the 10th-gen, 5-digit numbering scheme of Comet Lake, yet they're not 10th-generation Core chips," reports PC World…
Intel's best value 10th Gen X-Series processor announced today is the Core i9-10900X X-Series chip with 10C/20T, which offers a base clock of 3.7GHz and turbo up to 4.7GHz. It is listed at $590.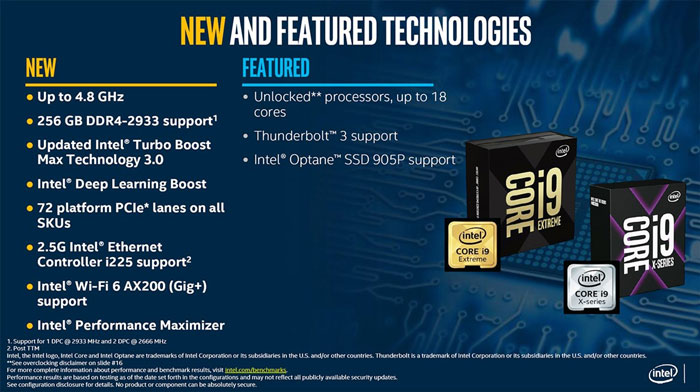 If it hasn't already struck you, the pricing for these enthusiast and creator parts is quite a lot lower than their predecessors. Tom's Hardware notes that the 9th Gen X-Series had an average price-per-core of $103, but "this will be reduced to ~$57 per core for 10th-gen Cascade Lake-X".
Performance and true value will only be known when third parties like HEXUS labs have managed to review and compare the latest generation HEDT chips from Intel and AMD next month. Having said that, Intel provides some indicators: for example it claims that the new X-series cores are 7 per cent faster than the Skylake-X generation in 3D rendering (14 per cent faster than a 3-year-old PC), and are twice as fast as the previous generation in inferencing.
The new Intel Cascade Lake-X HEDT processors are expected to run on the existing stock of X299 boards but there will be some new X299X boards launched in November too.