AMD has made its microcode updates an anticipated feature for Ryzen CPU users over the last couple of years. Typically these firmware updates introduce tweaking friendly refinements, optimisations, and iron out known issues for the platform. The most recent release we reported upon was the AGESA 1003ABBA update, last month, which addressed the CPU boost algorithm - to deliver clock speeds more in line with those expected. AMD also took the opportunity to add approx "25-50MHz to the current boost frequencies under various workloads," as an added bonus. Last but not least the update contained changes to improve system stability and performance for users.
A recent 'MSI Insider Show' on YouTube teased the next AGESA update from AMD, which is assumed to be the v1.0.0.4 microcode. Show host Eric van Beurden indicated that AMD has the new microcode queued up for motherboard partners to distribute next month. It was explained that the BIOS will first pass through BIOS vendors, then reach the motherboard makers, who will go on to update individual downloadable BIOS files for each SKU from November.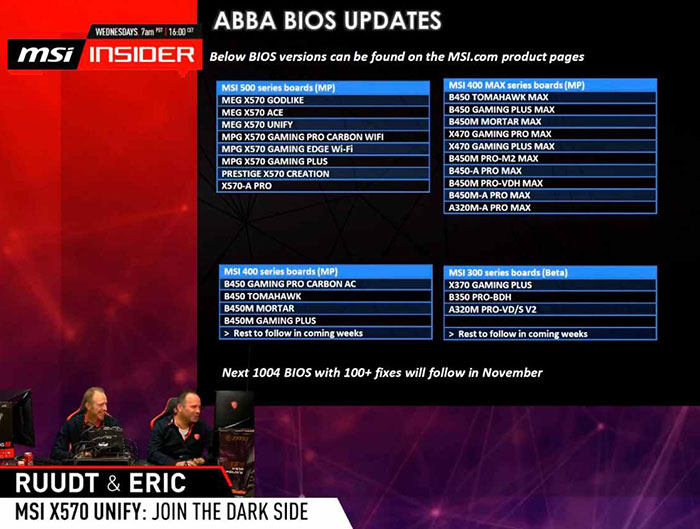 The most interesting thing about AMD AGESA 1.0.0.4 that van Beurden shared was that it delivers over a hundred improvements to the platform. The improvements aren't all bug and glitch fixes, a good number of optimisations - and even new features - are touted for inclusion in the firmware.
So, AMD Ryzen users need only wait until next month for what sounds like a worthwhile firmware update; to get even better stability, performance and value from their processors. Watch out for the news of its arrival and headlining features on HEXUS.