Tech site Guru3D has shared two new roadmap slides from AMD that we haven't seen before, dubbed 'AMD Corporate Deck-September 2019'. The slides apparently come from an unspecified financial briefing, likely used to inspire investors with forwards momentum, building on the established success stories of Zen CPUs and RDNA GPUs. Sadly, AMD's new roadmap slides sport vaguely graduated x-axes.
Zen 3 and Zen 4
Of course Zen 2 is shipping and HEXUS has had several Zen 2 CPU core processors through the labs this year. The most recent Zen 2 review we published was just three weeks ago, a thorough test of the AMD Ryzen 7 3800X.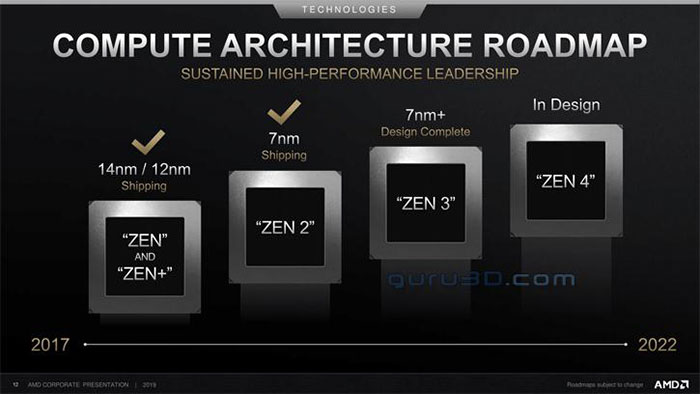 The roadmap spans 2017 to 2022 and Zen 3 is described as "design complete," ready to be fabricated at 7nm+. This equates to TSMC's enhanced 7nm EUV process (N7+) and should thus deliver a significant increase in transistor densities. As we learned in May, Zen 3 CPUs, built on TSMC's N7+ node will start to become available in 2020.
With Zen 3 design complete, AMD will have a significant focus on completing Zen 4, which is described as "in design" on the new roadmap. From the x-axis labelling, we should expect the Zen 4 to launch before 2022 - possibly at Computex 2021?
RDNA2
The Radeon graphics architecture roadmap has a similar design but a shorter timescale. 7nm RDNA graphics cards started shipping with the launch of the AMD Radeon RX 5700 and RX 5700 XT, which HEXUS thoroughly tested back in July (see that link). Again the roadmap moves ahead onto 7nm+, and that will go hand-in-hand with the introduction of the RDNA 2 architecture which is "in design". Expect the first RDNA 2 graphics architecture processors before 2021 - we might even see RDNA 2 graphics in consoles like Microsoft's Xbox Project Scarlett, as soon as next year.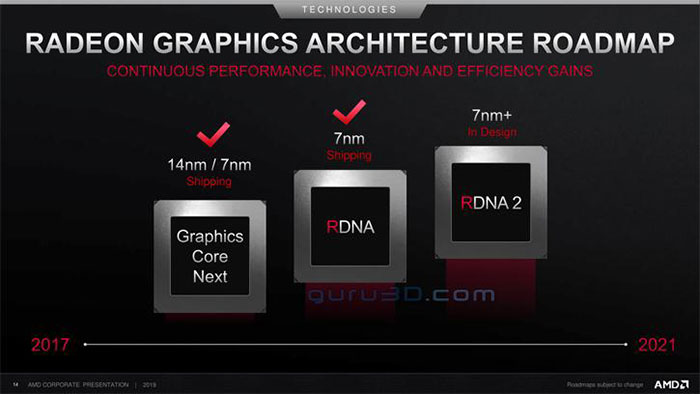 Between now and RDNA 2 we are still looking forward to AMD creating a range of RDNA graphics cards that slot above and below the current Radeon RX 5700 (XT) options.