Earlier today HEXUS reported upon the launch of the new AMD Epyc 2 (Rome) processors and in particular provided a deep dive review of the AMD Epyc 7742 2P Rome Server. Compared with the first generation Epyc processor launch back in 2017, yesterday evening saw a big change in initial support. This time around the resurgent AMD, rather fresh from its successful Ryzen 3000 launch, was backed by some of the biggest names in tech - with enthusiastic prestigious customers trotted out on stage throughout the launch event. In brief, AMD has worked hard to establish itself in the enterprise and data centre businesses over the last two years and its processors have been compelling enough to cause tech giants to consider a change.
In a press release, AMD rather dryly stated that its new 2nd Gen Epyc processors have caused an expansion of its Data Centre Customer and Partner Ecosystem. That's a modest way of saying that the likes of Dell, Lenovo, Microsoft, HPE, Google, Twitter and Cray are keen to start using these new 7nm processors in their own and their clients systems.
AMD sums up the customer and partner testimonial announcements at its Epyc 2 launch event as follows:
Google announced it has deployed 2nd Gen AMD Epyc processors in its internal infrastructure production datacenter environment and in late 2019 will support new general-purpose machines powered by 2nd Gen AMD Epyc processors on Google Cloud Compute Engine as well;
Twitter announced it will deploy 2nd Gen AMD Epyc processors across its datacenter infrastructure later this year, reducing TCO by 25%;
Microsoft announced the preview of new Azure virtual machines for general purpose applications, as well as limited previews of cloud-based remote desktops and HPC workloads based on 2nd Gen AMD Epyc processors today;
HPE announced continued support of the AMD Epyc processor family with plans to triple their AMD-based portfolio with a broad range of 2nd Gen AMD Epyc processor-based systems, including the HPE ProLiant DL385 and HPE ProLiant DL325 servers;
Cray announced The Air Force Weather Agency will be using a Cray Shasta system with 2nd Gen AMD Epyc processors to provide comprehensive terrestrial and space weather information to the U.S. Air Force and Army;
Lenovo announced new solutions that are specifically built to take advantage of the full range of enhanced capabilities found in the 2nd Gen AMD Epyc processors. Available today, the ThinkSystem SR655 and SR635 are ideal solutions for use cases such as video infrastructure, virtualization, software-defined storage and more, with exceptional energy efficiency;
Dell Technologies announced the upcoming availability of newly designed servers optimized for 2nd Gen AMD Epyc processors;
VMware and AMD announced a close collaboration to deliver support for new security and other features of the high-performance 2nd Gen AMD Epyc processors within VMware vSphere.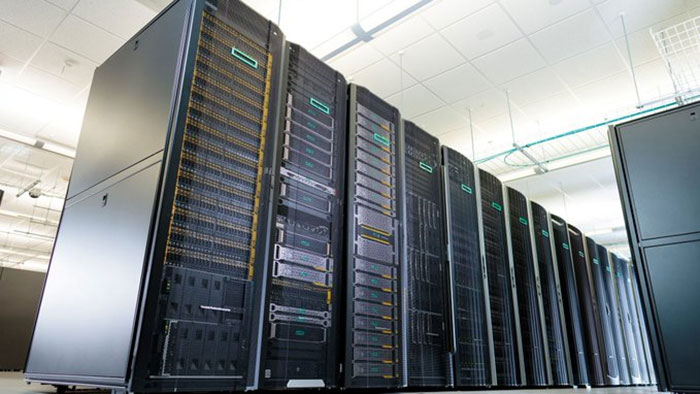 If you want to know more about the 19 new AMD Epyc 2 processors (AKA the Epyc 7002 Series or second gen Epyc processors), their design and performance it is worth a look at our article from earlier today and the official product home page. The latter includes some direct processing performance comparisons with Intel Xeon based systems and highlights that the Epyc 2 is the first 64-core x86 server processor, is the first 7nm x86 server processor, is the first server CPU with a dedicated built-in security processor, that it can offer up to 90 per cent higher integer performance, and up to 79 per cent FP performance.
AMD shares are currently up >6 per cent in the wake of the Epyc 2 launch announcement(s).