AMD held its Annual Stockholders Meeting yesterday and the slides from the presentation, dated 15th May 2019, have yet to be published on the official investor overview pages. I can only find the 'May 2019' presentation slides there at the time of writing. However, yesterday's presentation included some important confirmatory availability dates for upcoming blockbuster releases from AMD, as you can see in the slide via VideoCardz, reproduced below.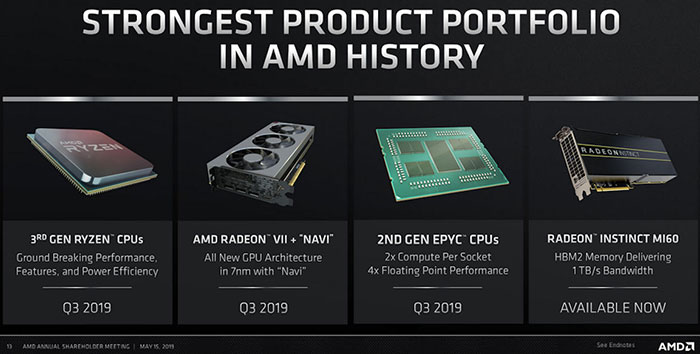 Above you can see an official slide promising that by Q3 this year AMD will be offering the strongest product portfolio in its history. We have heard similar confirmations previously in recent weeks, but it is good to have it all on one slide - 3rd gen Ryzen CPUs, 2nd gen Epyc CPUs, and Navi GPUs are all destined for availability in Q3 this year. Availability for the respective components could be as soon as early July, or lag into late September, time will tell.
Current expectations of the running order are that:
AMD will launch Ryzen 3000 series desktop CPUs at Computex 2019
AMD will launch Navi GPU based products at E3 2019
But the AMD 2nd gen Epyc CPU launch event hasn't been confirmed or teased (Hot Chips 31 in mid-August?)
VideoCardz shares a quote from the presentation to investors, as follows: "In gaming, we successfully returned to the high-end market with the launch of our Radeon VII GPU in February 2019 and we are on track to introduce our next-generation 'Navi' GPUs for the mainstream market later this year."
Furthermore, the site infers something from the slide featured above. As the Radeon VII and Navi GPUs are listed together for Q3, it is highly likely that Navi will not compete in the upper-high-end segment - so we will not be looking at any Navi-based graphics cards rivalling the Nvidia GeForce RTX 2080, which is the Radeon VII's territory, as you can see from the slide below.