Twitter CPU and GPU leakster Tum Apisak has shared the specs of one of the upcoming top-end AMD Ryzen 300 series processors, which we expect to be officially unveiled at Computex 2019 at the end of the month. Tum found online benchmark database traces for what he described as a "Zen2 ES 16 Core" processor with 16 cores - and in its current form it has base/boost 3.3GHz / 4.2GHz clock frequencies.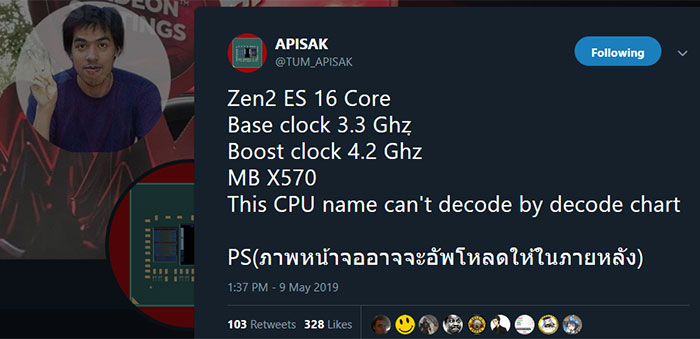 We know that the first 7nm Zen 2 architecture chips will be the AMD Ryzen 3000 series CPUs for desktops. Current expectations are that the AMD Ryzen 300 series of desktop CPUs will provide between 50 and 100 per cent more cores per chip thanks to the use of the Matisse MCM consisting of up to 2x octa-core Zen 2 chiplets.
An earlier leak form a large Singapore retailer pointed towards the following range and pricing:
Ryzen 3 3300: £85
Ryzen 3 3300X: £110
Ryzen 3 3300G: £110
Ryzen 5 3600: £150
Ryzen 5 3600X: £195
Ryzen 5 3600G: £170
Ryzen 7 3700: £255
Ryzen 7 3700X: £280
Ryzen 9 3800X: £380
Ryzen 9 3850X: £425
Expectations are that the new Ryzen 3000 series desktop CPUs will offer Cores/Threads; from 6/12 with the Ryzen 3 3000 parts, to 8/16 for Ryzen 5 3000, then 12/24 for Ryzen 7 3000, and the Ryzen 9 3000 parts to come with 16C/32T.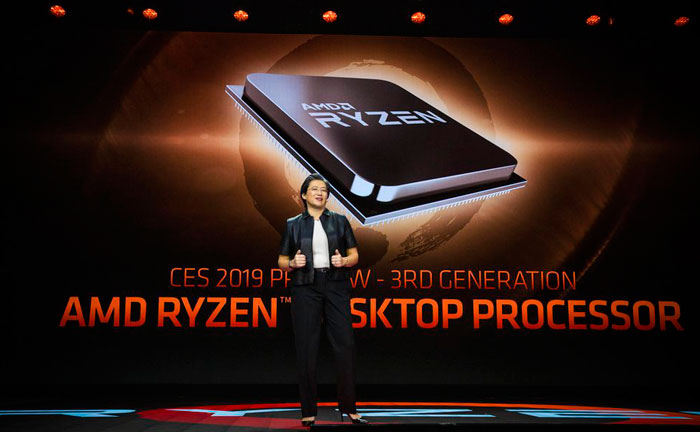 For the headlining 16C/32T 'ES' or engineering sample CPU some might be disappointed by the base/boost clocks but the final shipping consumer part might well see these tuned up. The particular chip spotted by Tum will be one of the Ryzen 9 38X0 models.
Some enquired of Tum whether he had unearthed any of the 12C/24T Ryzen 7 3XXX designs but the answer was no, not yet. The 12C/24T chips are expected to be delivered with much faster base/boost clocks.
X570 motherboards
AMD will be officially introducing its X570 motherboards at Computex in a few weeks. Meanwhile, MSI has already begun to tease its first X570 board. VideoCardz shares some choice stills and an MSI Twitter teaser video, which provides an early fanfare for the MSI X570 ACE.