In an AMD investors presentation yesterday a new roadmap was revealed. The full slide deck from the presentation is available here (PDF link). Much of it is a recap on AMD's progress and strategy but on page six you will find a slide entitled '2019 AMD Client Lineup' which fleshes out 2019 with regard to processor launches.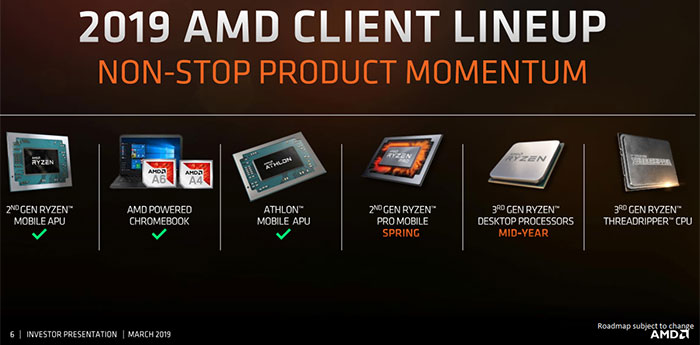 As you can see above, there are three significant launches going forward into 2019 that will maintain AMD's processor momentum. Very soon we expect the 2nd Gen Ryzen Pro Mobile processors to launch. It is expected that these processors will be closely related to the non-Pro models and thus be built upon the Zen+ microarchitecture with Vega graphics. Like previous Pro generations, the 2nd Gen Pro Mobile models should add security features, and offer greater reliability and manageability.
Next in the roadmap for 2019 we see that AMD has confirmed the 3rd Gen Ryzen desktop processors for "mid-year". These are very interesting to enthusiasts as they will come packing the Zen 2 microarchitecture fabbed at 7nm by TSMC. We recently saw a range of Ryzen 3000 desktop CPUs listed by Singapore retailer, with pricing, but with AMD's restatement of a mid-summer launch I think that price list editor has just be 'having a laugh' by including that widely reported model name and pricing data.
At what appears to be a later time in 2019 the 3rd gen Threadripper processors will launch. These processors could feature up to 64-cores - matching the core counts of the 2nd Gen EPYC range. Sadly the 3rd gen Threadripper launch window is wide open, all that seems to be confirmed is we will see these in H2 2019.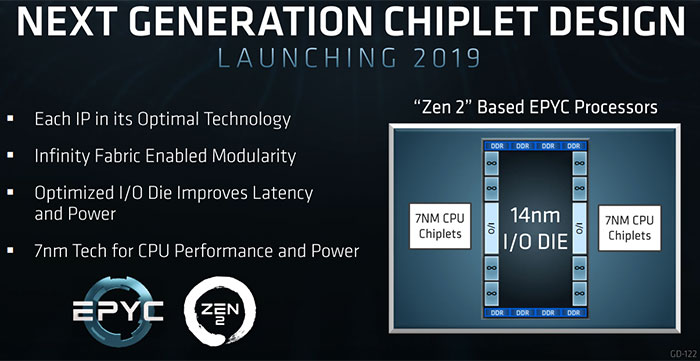 AMD seemed quite excited that the EPYC server processors, codenamed Rome, are coming out in 2019 too.