HEXUS has previously explored allegations that the Intel chipset change for 8th generation Core processors (Coffee Lake) was unnecessary. In the first HEXUS review featuring Coffee Lake processors (Core i7-8700K and Core i5-8400), Intel's claim that the greater core counts and faster memory required a higher level of certification and support than Z270 provided were characterised as "balderdash" by the HEXUS editor. A few months later, in March 2018, hardware modders published results showing that they could successfully build Coffee Lake systems using 100 and 200 series chipsets. The modders said that a mix of software/firmware was used by Intel to lock out the possibility of using Coffee Lake processors on 100 and 200 series chipsets but they shared a guide on how to bypass these shenanigans using modded BIOS files.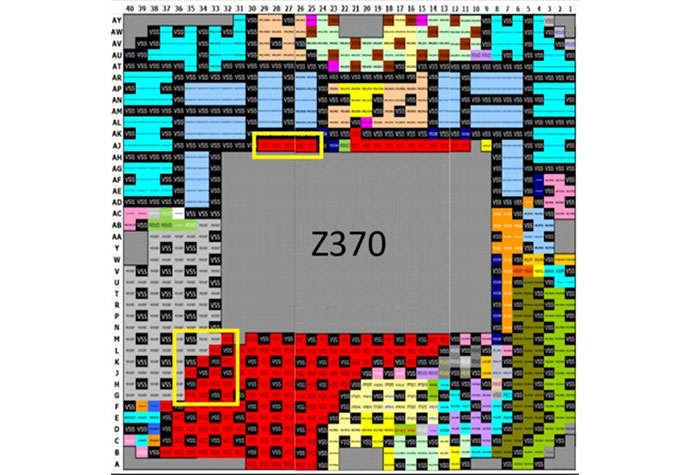 Highlighted: extra active pins in the previously reserved area
On New Year's Eve der8auer published a video where he shared his analysis of the Coffee Lake controversy. In his signature style der8auer decided to look at the issue using a very hands-on approach, testing and comparing z270 and z370 motherboards every step of the way.
You can see the video embedded above, der8auer starts by explaining Intel's position - that extra pins were needed to supply extra power from motherboard socket to processor. Previously reserved pins were utilised by Z370 motherboard sockets to deliver extra power - creating a pinout change in both the CPU and socket (though the socket appeared to be identical).

Der8auer sought to test if the extra activated Vcc and GND pins were necessary, even for the beefiest new Coffee Lake processors. To do this, in essence, he took some pins from a dead Z370 board and measured how much load they could take without heat issues. He cranked up the power to 5A to a pin and seeing no adverse effects concluded that pins would easily cope with an increased load (approx 0.7 to 1.1A OC per pin) reliably which might result from reduced active CPU pins.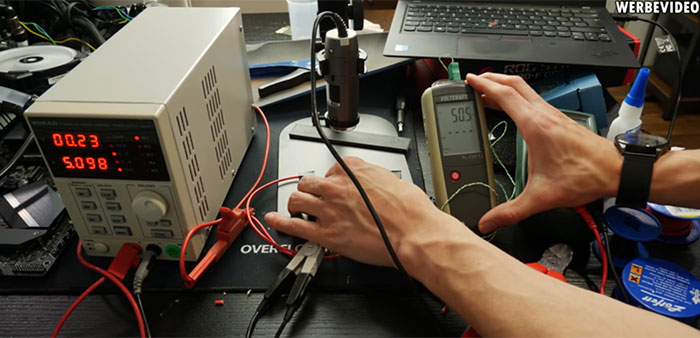 Applied 5A to a single pin for 30 mins - no sweat...
As the next part of his testing process der8auer taped off up to 18, 28, 38, 45, 56 and then 69 pins of his test Core i9-9900K processor - creating up to 1.92A per pin load (69 pins = half of the processor's power supply pins out of action). After testing for six hours no ill effects or worrying temperatures were noted.
At the end of his exploratory testing der8auer asserts that the Z390's extra Vcc and GND pins were "not necessary". To be fair, he ponders over what would happen to the socket over long periods and with repeated processor changes (pin contacts can wear, for example) but it doesn't alter his conclusion.