CPU-centric chip Twitterer 'Bits and Chips' has teased indications that the move from AMD Zen+ to Zen 2 cores will deliver an average 13 per cent IPC uplift. These results are said to come from 'scientific task' workloads / benchmarks, and gaming data has yet to be revealed. The source quoted by the Italian Tweeter is claimed to be an employee of a 'big company' and behind previous leaks that 'proved true' concerning the IPC of Zen, and the AM4 socket pins.
The AMD Zen CPU architecture was incrementally updated to Zen+ earlier this year, delivered via the current Pinnacle Ridge CPUs, which leveraged an improved 12nm LP process. That helped with increased core base and boost frequencies, and came alongside other improvements such as Precision Boost 2, and memory-latency tuning across the chip. In our first Pinnacle Ridge CPU reviews HEXUS discovered that the move to Zen+ cores delivered an approximate 10 per cent all-core performance uplift and incremental gaming gains over the previous gen. The IPC uplift witnessed was in single digits, between 3 and 5 per cent.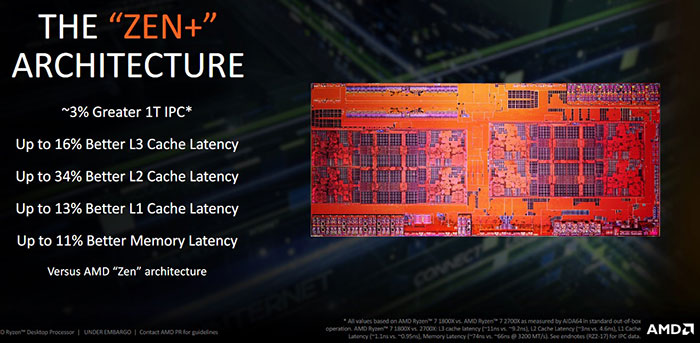 As you can see from the most recent AMD Zen roadmaps, like the one below, the move from Zen+ to Zen 2 could and should deliver even more of an intergenerational uplift than that we witnessed earlier this year. AMD claims that Zen 2 "improves on Zen in multiple dimensions". It will be manufactured on the 7nm process, and we have already seen signs of AMD and its partners testing Epyc processors built on this process, and both Apple and Huawei have released products powered by TSMC fabbed 7nm processors.

The first AMD Zen 2 processors are expected to be seen before the year is out. The leaked Epyc CPU mentioned above will be part of the first volley of these 7nm chips. With the new process, higher clocks and possibly more cores it will be interesting to see these first shipping Zen 2 chips, and it will give us a clearer indication of what to expect in consumer and enthusiast processor ranges built off the same technology.