Another leak seems to have occurred while we await the launch of the top-end Intel Core 9000 Series (Coffee Lake Refresh) processors. In September we saw a Singaporean retailer leak prices for a quartet of 9000 Series processors, including the top end Intel Core i9-9900K (8 Core / 16 Thread) at SGD666 (approx £370/US$480). The retailer price list was a good early indication of pricing, but now Amazon US has uploaded its product page for the Intel Core i9-9900K which includes pricing, base specifications, and pictures.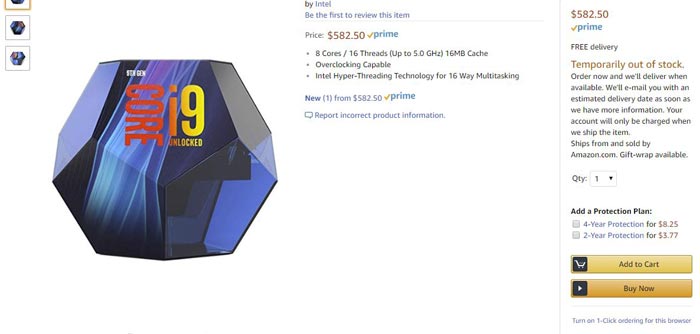 It appears that the first person to spot the new Amazon.com listing was a Twitter user by the name of Momomo_us. In this picture you can clearly see the processor packaging, and the key tech specs of the product, plus the all-important pricing. The retail listing, which seems to have its title truncated in all the screenshots, has been independently unearthed by Tom's Hardware's Paul Alcorn after "a bit of digging". I've had a nose around the Amazon US site but can't find the product listed at the time of writing - can any HEXUS reader locate it?
Perhaps the biggest surprise in the screenshot isn't the spec, or pricing, but the new style packaging. This colourful, translucent 12-sided pack certainly catches the eye but will be a bit annoying for shelf stackers in computer malls like Nova and similar. Some commentators have asked why it doesn't come in an 8-or 16-sided polygon - implying that CPUs with different core counts should all have different packaging. (If it was based upon physical cores a 2C processor would therefore need to come in 2 dimensional packaging).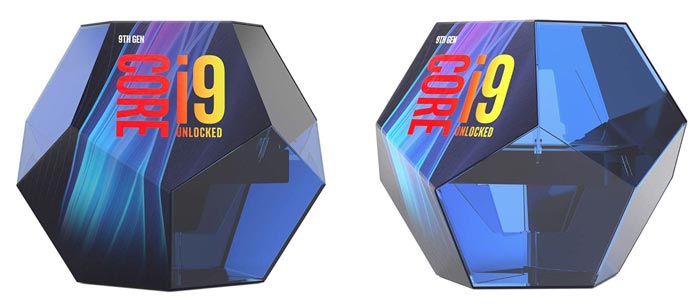 As a reminder, this listing and previous leaks point to the Intel Core i9-9900K coming with the following key features;
14nm++ process
8 cores / 16 threads
16MB cache
A solder TIM
Turbo clocks of up to 5.0GHz
Overclockability
Intel's new top-end enthusiast PC processors, and their packaging, are seen as a reply to AMD's cool Ryzen and Threadripper processors and cartons. Though we can see that the new 8C/16T Intel chip costs US$582.50 in the Amazon lisnting, there is no stock or expected availability date provided.