There have been a number of widely reported leaks about the upcoming Intel Core 9000 Series (Coffee Lake Refresh) processors. Yesterday, for example, a full review of an Intel Core i7-9700K engineering sample was published on a Spanish website will a wide gamut of details spilled and a plethora of synthetic and gaming benchmarks shared. We saw this processor compared to existing SKUs from both Intel and AMD and what punters now really want to know, to prepare for full launch, is how much these chips will cost them.
A few hours ago a Redditor shared a link to a new price list from Singapore-based PC component distributor BizGram (PDF), which included for the first time Intel Core 9000 Series processors. I've listed the prices from the PDF sheet directly below and done direct conversions via Google rounded to the nearest £/$5.
Intel Core i9-9900K (8 Core / 16 Thread): SGD666 = £370/US$480
Intel Core i7-9700K (8 Core / 8 Thread): SGD518 = £290/US$375
Intel Core i5-9600K (6 Core / 6 Thread): SGD370 = £205/US$270
Intel Core i3-9350K (4 Core / 4 Thread): SGD252 = £140/US$185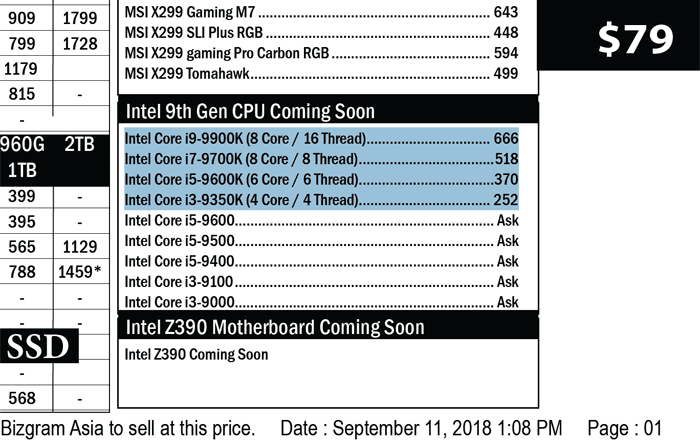 It is likely, as this is a consumer store, that the prices include Singapore's VAT equivalent, which is just an additional 7 per cent. So please adjust your price expectations accordingly, depending upon where you live.
Considering the Intel Core i7-9700K engineering sample we saw benchmarked yesterday was neck and neck with its Core i7-8700K processor and the rival AMD Ryzen 7 2700X one wouldn't expect Intel to be able to stray very far from the current gen pricing levels with the new SKU. Checking the pricing of these parts in the UK, we see that the Intel Core i7-8700K costs approx £380 and the AMD Ryzen 7 2700X is a smidgeon under £300 at retail. As the UK's VAT is an extra 13 per cent more than Singapore's it would be reasonable to assume that the new Intel Core i7-9700K is initially offered at £400+ here - with early adopter latest gen pricing.
It is interesting to see the entry level OC-friendly Intel Core i3-9350K listed at approx £140 at the cheap end of these new offerings. However, it is at the high-end where we might quickly see some retort from AMD with a rumoured Ryzen 2800X processor waiting in the wings.