AMD Ryzen 7 2800H and Ryzen 5 2600H
AMD has listed a couple of new APUs that are reportedly aimed at gaming laptops. The new AMD Ryzen 7 2800H and Ryzen 5 2600H are based upon the Raven Ridge architecture, pairing Zen compute cores with the Vega graphics architecture. They are designed with a 35W to 54W configurable TDP, quite a step up from the previous Raven Ridge laptop parts (15W), but comfortably lower than the desktop counterparts (65W) due to adjustments in frequencies. Furthermore, these new APUs support DDR4 memory speeds up to 3200MHz.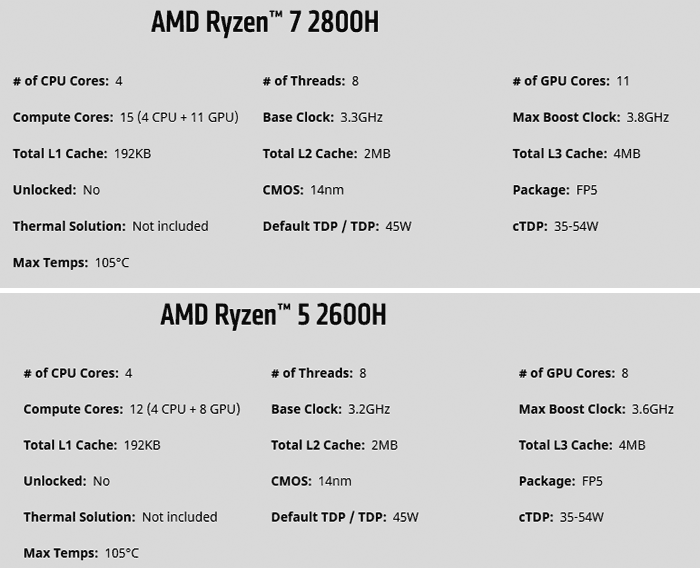 The processors are said to have become available on 10th Sept, but there hasn't been an official announcement or press release. As they are laptop parts we might never see pricing, they will simply come equipped in some upcoming gaming laptop designs from AMD partners.
AMD Athlon 200GE available
HEXUS wrote about the new AMD Athlon processor back at the start of the month. Today AMD has sent us an email to say that the first of the announced SKUs is now ready in retail and available for purchase.
The AMD Athlon 200GE with Radeon Vega 3 graphics is a desktop processor that comes packing x86 Zen cores and Radeon Vega graphics architectures. It was designed as a responsive and reliable foundation for home computing - browsing, light gaming, and so on - while being energy efficient. AMD's Rober Hallock suggests this processor "represents an affordable and performant way to start with top games like DOTA 2, League of Legends, Overwatch, or CS: GO".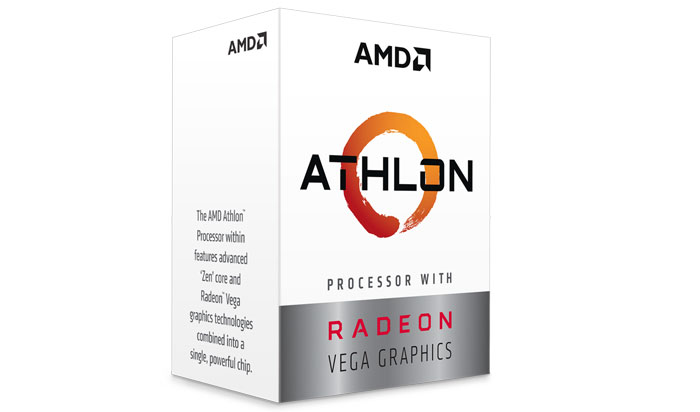 In comparative terms, AMD claims that the Athlon 200GE "offers up to 67 per cent more graphics performance and up to two times greater power efficiency, delivering 84 per cent faster high-definition PC gaming than the competition." This 35W processor features 2C/4T compute plus three graphics compute units, and is available to order from Scan Computers at a cost of £52.49.
SMACH Z at TGS
Back in Feb we discovered that the SMACH Z handheld PC would be powered by an AMD Ryzen Embedded V1000 processor. Now, eBOM reports that AMD is going to be promoting the console at Tokyo Game Show (TGS) (Hall 2, booth 2-N02). The show begins on Thursday 20th Sept.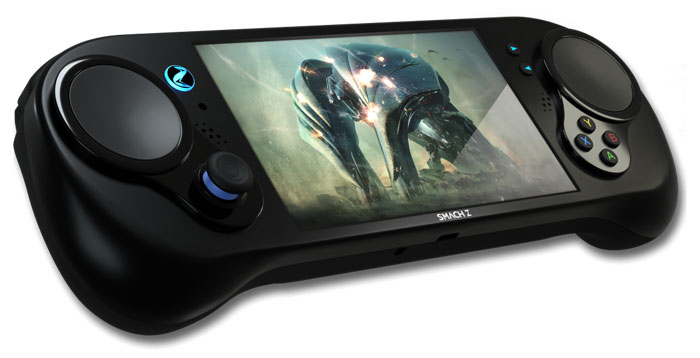 According to the source report the SMACH Z has enough muscle to "play high-end games like League of Legends, Rocket League and Alien: Isolation at 1080p. And even Witcher 3, GTA 5 and Dark Souls 3 can be played at 720p."
As a reminder, the key specs of the SMACH Z are; an AMD Ryzen Embedded V1605B SoC with AMD Radeon Vega 8 graphics, a 6-inch 1080p touch screen and a 5 Megapixel camera, up to 16GB of RAM, as well as up to 256GB of SSD storage. Ports available are USB-C, USB-A and Micro USB as well as DisplayPort and a mini audio jack.
The SMACH Z console will be released for sale in December 2018, with pricing from €629.10 (4GB RAM, 64GB storage, no camera, and SMACH OS). Current pricing includes 10 per cent pre-order discount.