Arm has published a blog post about how it is accelerating mobile and laptop performance. The key graphic shared by the chip designer shows of the firm's first ever public forward looking roadmap with performance numbers. In brief, later this year, Arm expects its <5W Cortex-A76 to offer performance on a par with the 15W Intel Core i5-7300U. (To judge comparative performance it used the single-core SPEC CINT2006 benchmark.) Furthermore, Arm predicts that its upcoming processor generations will deliver >15 per cent computer performance uplifts through 2020 to easily break beyond Intel's trajectory.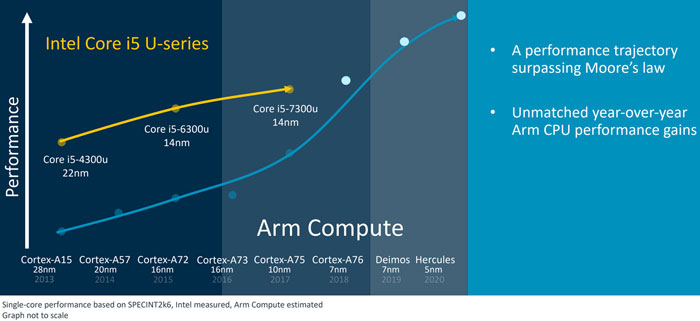 Arm says it has delivered double-digit gains in instructions-per-clock (IPC) performance every year since 2013 and is applying this leadership now to enter the PC market and deliver high-performance, always-on, always-connected laptop experiences.
The arrival of 7nm Cortex-A76 powered SoCs later this year will bring a 35 per cent IPC gain compared to the previous generation, without compromising efficiency, says Arm. The follow-up to the Cortex-A76, codenamed 'Demios' is based on Arm DynamIQ technology and is expected to deliver a 15+ percent increase in compute performance next year. As we near the end of 2019 and into 2020 Arm will then introduce 'Hercules', optimised for both 7nm and 5nm, again delivering greater compute performance, while also improving power and area efficiency by 10 per cent.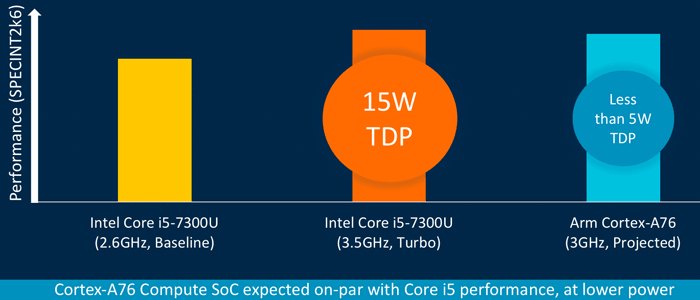 What the above means, according to Arm, is that Arm SoCs will "break through the dominance of x86 and gain substantial market share in Windows laptops and Chromebooks over the next five years". It refers to the current year and the current crop of Windows on Arm PCs as an important first step that will start to liberate the PC industry "from the slowing pace of Moore's law" into the new 5G era. Intel seriously needs to fight back and not rest on its laurels.
Earlier this week we saw some leaked benchmarks, purported to be showing Qualcomm's latest Arm processor, the Snapdragon 850, delivering a 25 per cent uplift in single core performance compared to the SD835 in Windows on Arm devices, or Cellular PCs. The result was a little less than the touted 30 per cent gain advertised in SD850 promotional materials.