Purported Intel documentation referencing and detailing a pair of top-end Intel Core 9000 Series processors has leaked onto the internet. The images were first shared on the Chinese language Benchlife MIT forum and spotted by many western tech news sites after being published on VideoCardz. The information, if true and correct, highlights encouraging specifications for the upcoming Intel Core i9-9900K and i7-9700K processors.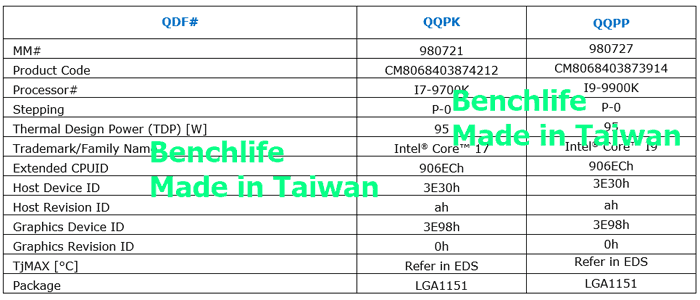 Above you can see a slide which establishes the processor names, families, TDPs and sockets. To me this slide looks a bit dodgy as the Trademark/Family name row says that the i7-9700K is part of the Intel Core 17 family. That's quite an obvious and glaring typo, even if almost obscured by the 'a' of the green watermark text.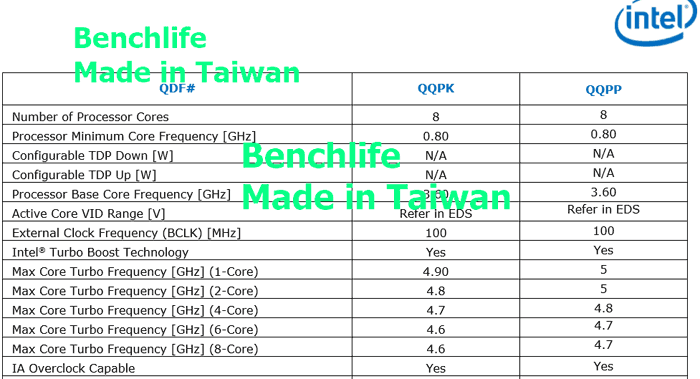 The second slide is the source of today's Intel Core 9000 Series headline. It lists the Max Core Turbo Frequency on various core counts. To start we must restate that current rumours point to the upcoming desktop Core-i7 chips offering 8C/8T and the i9 chips 8C/16T. Both processors operate at a base frequency of 3.6GHz but, as usual, turbo frequencies come down as more cores are utilised.
Looking at the Intel Core i9-9900K first, it can run at a turbo boost speed of 5GHz on one or two cores. Four cores can run together at 4.8GHz, and it can utilise 6 or all physical cores and still achieve 4.7GHz. Please refer to the table for the turbo speeds with regard to the Core i7-9700K.
The new documentation leaks agree with previous information we have seen regarding multi-core turbo speeds.
Intel's Core 9000 Series processors are expected to debut in late September. At the same time new Intel Z390 Series chipset motherboards should hit the market. We have recently reported upon motherboard makers updating their earlier 300 Series motherboard BIOS files in readiness for the new range of desktop processors.