An Intel Core-i9 9900K powered PC system appeared in the 3DMark Time Spy's database this weekend. Thai overclocker Tum Apisak shared the system configuration via his Twitter feed, and linked to the 3DMark Time Spy results in the official online database. Apisak shared both 3DMark Time Spy CPU-only and combines scores with an Nvidia GeForce GTX 1080 Ti. Naturally the system, featuring Intel's yet-to-launch consumer flagship 8C/16T CPU, achieved impressive results.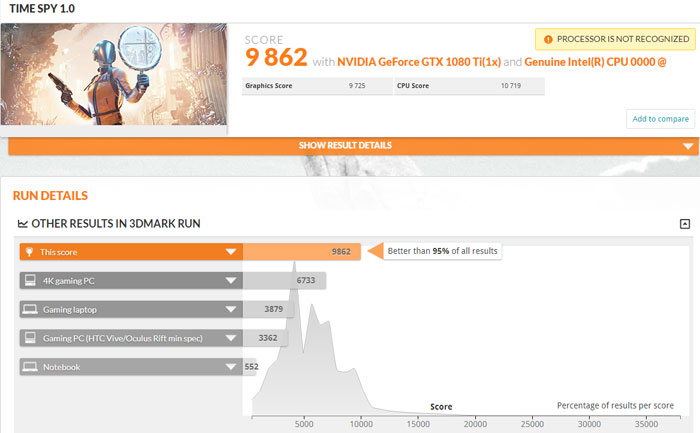 As reported by NoteBookCheck, the Intel Core i9-9900K based system achieved a CPU-only score of 10,719 and a combined score of 9,862 with the Nvidia GeForce GTX 1080 Ti. These scores are put into perspective by comparing (CPU-only) results of 7,918 for the Intel Core i7-8700K, while the AMD Ryzen 7 2700X scores 9,147 points all systems at stock clocks).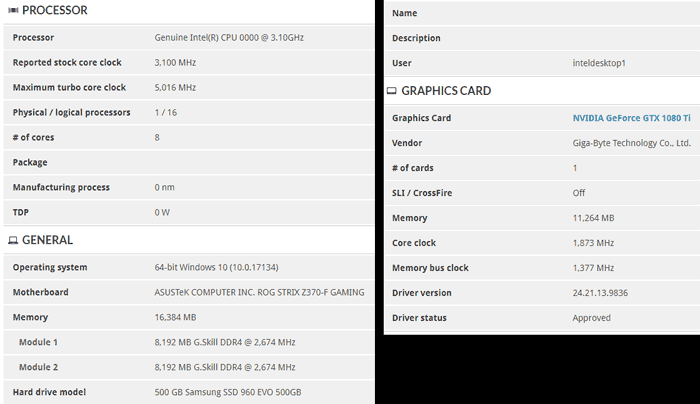 Directly above you can see the system configuration used by Apisak. Understandably, the CPU wasn't recognised by the benchmark but it could see that the CPU had 8C/16T and base/boost clock speeds of 3.1GHz / 5.0GHz. The Thai overclocker used an Asus ROG Strix Z370-F Gaming motherboard for his benchmark runs, and you can see that a Gigabyte Nvidia GeForce GTX 1080 Ti was installed.
The above provides a good preliminary idea of the respective performance of the new Intel Core i9-9900K. What might be more interesting to some is the performance of the non-hyperthreading 8C/8T Core i7 chips and other more mainstream parts - along with the pricing. It looks like we won't have to wait that long until we can more thoroughly test the 9th gen Intel Core processors in HEXUS labs.